Giro d'Italia to start in the USA, announcement tomorrow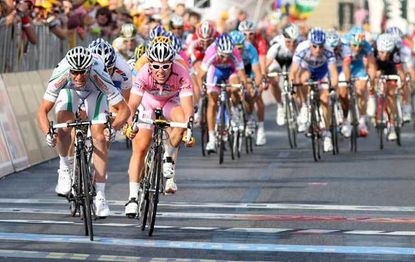 The Giro d'Italia will announce tomorrow its plans to start the 2012 edition in the USA, becoming the first Grand Tour to start outside of Europe, according to Italy's Il Sole 24 Ore.
The newspaper reported today that Washington, DC, Mayor Adrian Fentry will join Giro d'Italia Race Director Angelo Zomegnan at the Italian Embassy to make public their search for American sponsors.
The Giro d'Italia will race only its first day, a Saturday, in the USA, according to the newspaper, instead of a rumoured trip up the nation's east coast. Riders will travel back on Sunday, have a rest day on Monday and resume racing in Italy on Tuesday.
"For some time we have had the idea of holding the Giro's start in America," said Zomegnan during a trip to the USA in November. "But now there exists a concrete interest from the city of Washington."
Mayor Fentry, a fan of cycling and a competitor in triathlons, helped push along the bid.
The three-week Giro d'Italia first ventured abroad 45 years ago, starting in San Marino in 1965. This year, the race will start with three stages based around Amsterdam, Netherlands, before travelling back to Italy during the rest day and resuming racing with a team time trial to Cuneo.
None of the three Grand Tours - Giro d'Italia, Tour de France, Vuelta a España - though, has ever begun outside of Europe.
The major problem facing Giro d'Italia organiser RCS Sport, and the race's participants, is travel time and jet lag. A typical flight takes eight hours from DC to Milan, including a six-hour time difference.
Subscribe to Cycling Weekly magazine>>
Thank you for reading 20 articles this month* Join now for unlimited access
Enjoy your first month for just £1 / $1 / €1
*Read 5 free articles per month without a subscription
Join now for unlimited access
Try first month for just £1 / $1 / €1