Giro fines Contador for missing press conference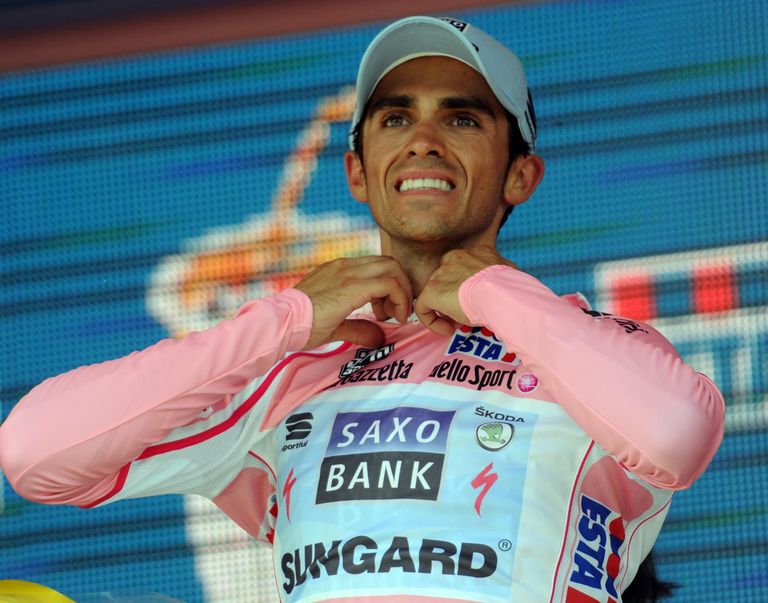 The Giro d'Italia fined Spaniard Alberto Contador on Tuesday, two days after he took the leader's pink jersey on Mount Etna, for skipping the post-race press conference after stage 10.
An official race jury communiqué stated that Contador did not "respect contract obligations."
The race jury fined him 1000CHF or £690 (€790).
"The team told us that Contador doesn't have enough time," press officer, Matteo Cavazzuti told Cycling Weekly. "We are upset about it, we want him here."
Contador won the Tour de France three times and the Giro in 2008, but he has never faced the possibility of defending the leader's jersey for so long. If he keeps it until the end, he'll have to defend it for 12 days.
The Giro requires the race leader and stage winner to attend the post-race press conference each day. After the Mount Etna win, Contador spoke with TV and radio press, first Spaniards and then other nationalities. Afterwards, he attended a press conference in the same area for written press.
After today's stage won by Mark Cavendish in Teramo, Contador spoke with TV and radio press, but skipped the press conference for written press.
"It's too much," Contador's press officer, Jacinto Vidarte told Cycling Weekly. "He can't do it every day if he has it for two more weeks. Plus, they want him to answer five questions to every TV camera and in different languages."
Vidarte added that the Tour de France is organised much better for the press. Each day, the riders pass a waiting area for TV, radio and written press immediately before entering a mobile press conference room.
"It's all done before anti-doping," added Vidarte, "here, they make the rider do anti-doping first."
The press conference room today in Teramo was 1,800 metres from the finish. The distance was not long, but would have required a car ride after Contador gave TV and radio interviews and anti-doping tests.
Cavazzuti already informed the written press that Contador, if he still has the race lead, will be unavailable after the Ravenna stage on Thursday. The riders and race caravan faces a three-hour transfer to the start of the next stage in Spilimbergo.
Lance Armstrong often skipped press conferences racing to his seven Tour de France victories.
Giro d'Italia 2011: Latest news
Giro d'Italia News Shorts (May 15)
Giro's Sicilian cyclists proud to face Mount Etna
Contador surprises at Giro with attack ahead of mountains
Contador minds food at Giro as CAS decision nears
Weening supported by Rabobank and model Kroes
Local lad Appollonio bears fruit in Fiuggi
Giro d'Italia News Shorts (May 12 edition)
Blythe finding way in second Grand Tour
Leopard-Trek withdraws from Giro d'Italia
Leopard-Trek uncertain to continue in Giro
Tuesday's Giro stage in memory of Weylandt
Giro doctor describes actions to save Weylandt
Wouter Weylandt killed in Giro crash
Giro news shorts (May 8)
Cavendish likely to take Giro lead tomorrow
Giro 2011: Who will win?
Kennaugh to lead Team Sky in Giro's opening stage
Nibali's Giro fight with Contador may reach the courtroom
Riis defends Contador's participation in Giro
Cavendish set to start winning again at the Giro
Doping investigations force cyclists out of Giro d'Italia
Kennaugh replaces Pauwels in Sky's Giro line-up
Contador scouts out the Giro mountains
Cavendish and Millar top list of Giro-bound Brits
Lampre likely for Giro despite doping investigation
Giro announces record 23 teams to race
2011 Giro to start in Turin with team time trial
Giro goes one up on the Tour with spectacular route
Nygaard, Sciandri and Lloyd comment on 2011 Giro route
Nibali's Giro d'Italia?
Giro d'Italia 2011: Stage reports
Stage 10: Cavendish opens his Giro account
Stage nine: Contador storms Etna to take Giro lead
Stage eight: Gatto springs late attack to take win
Stage seven: Neo-pro De Clercq wins by a whisker
Stage six: Ventoso steals Giro stage six win
Stage five: Weening holds on to take stage and maglia rosa
Stage four: Tearful Farrar and Leopard-Trek lead riders across stage four finish line
Stage three: Vicioso victory overshadowed by Weylandt crash
Stage two: Petacchi wins as Cavendish takes lead
Stage one: HTC-Highroad wins Giro's opening team time trial
Giro d'Italia 2011: Photo galleries
Stage 10 photo gallery by Graham Watson
Stage nine photo gallery by Graham Watson
Stage eight photo gallery by Graham Watson
Stage seven photo gallery by Graham Watson
Stage six photo gallery by Graham Watson
Stage five photo gallery by Graham Watson
Stage four photo gallery by Graham Watson
Stage three photo gallery by Graham Watson
Stage two photo gallery by Graham Watson
Stage one photo gallery by Graham Watson
Giro d'Italia 2011: Live text coverage
Giro d'Italia 2011 stage seven live text updates
Giro d'Italia 2011 stage five live text updates
Follow the 2011 Giro d'Italia live with Cycling Weekly
Giro d'Italia 2011: Start list
Giro d'Italia 2011: Start list
Giro d'Italia 2011: TV schedule
Giro d'Italia 2011: British Eurosport TV schedule
Related links
Giro d'Italia 2010: Cycling Weekly's coverage index