Ramunas Navardauskas's Giro win one for Garmin-Sharp after Hesjedal's problems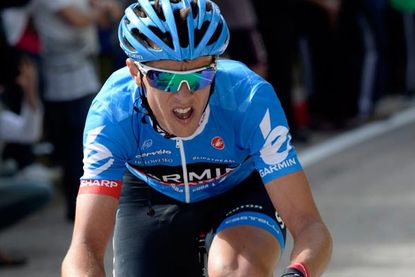 Ramunas Navardauskas won one for his Garmin-Sharp team after Ryder Hesjedal's problems this week. Defending champion Hesjedal suffered in the last few days and effectively ended his overall chances after losing 20-53 minutes yesterday on the first summit finish.
"It's not about me, but the organisation and everyone that's been working so hard. It's not easy by any means, especially coming here after winning last year and having those expectations," Hesjedal told Cycling Weekly and a handful of journalists waiting above the dam at the finish.
"For Ramunas to do what he did today... he's a selfless worker. I was happy to help him today. I got the guys bottles after 50 kilometres full-on today. I handed him a bottle right before he went into the break."
Navardauskas escaped after 71 kilometres with 19 others. He attacked free with Daniel Oss (BMC Racing) on the climb leading to the dam and dropped him before the finish.
"Ryder had a bad day yesterday, which happens sometimes," Navardauskas said in a press conference. "Today we took on different tactics and the whole team was racing differently. Our race is not over; we will still try to do our best to win stages."
The 25-year-old from Lithuania held the pink jersey last year for two days after Garmin won the team time trial in Verona. He then turned his attention to helping Hesjedal become Canada's first winner.
After the win in Vajont today, he was whisked away to press conference after press conference. Hesjedal and his team-mates bundled up for the nine-kilometre descent down to Longarone where the buses waited.
"He benefited from a great prologue last year and from our good team time trial. We had some great momentum from that last year," Hesjedal added. "Today, it was all about representing the team and going for it. Ramunas was incredible, he had an opportunity and made good on it. It's not surprising for me."
Hesjedal's voice crackled. The rough days at the Giro d'Italia are catching up with him. Rumours now circulate that he may not even finish the three weeks.
"I was just happy to finish today, so... We'll just take that for what it is today. I'll look forward," he said.
"At least we had today, which was the most regular, easy day of the race. It was easy to follow; I never had to go into the red. It was a nice day out there."
Hesjedal spoke some more and then joined his waiting Garmin team-mates for the descent. To his left, the dam that was unable to stop the 1963 tragedy that killed nearly 2000 people. He looked forward, eyeing two more weeks of racing that includes some of cycling's toughest passes. He has plenty to consider, especially if he also wants to contend for the Tour de France.
Thank you for reading 20 articles this month* Join now for unlimited access
Enjoy your first month for just £1 / $1 / €1
*Read 5 free articles per month without a subscription
Join now for unlimited access
Try first month for just £1 / $1 / €1