'Someone will pay' says Giro d'Italia race director following stage shortening debacle
Mauro Vegni has threatened to get lawyers involved if evidence isn't produced showing riders originally raised their concerns yesterday evening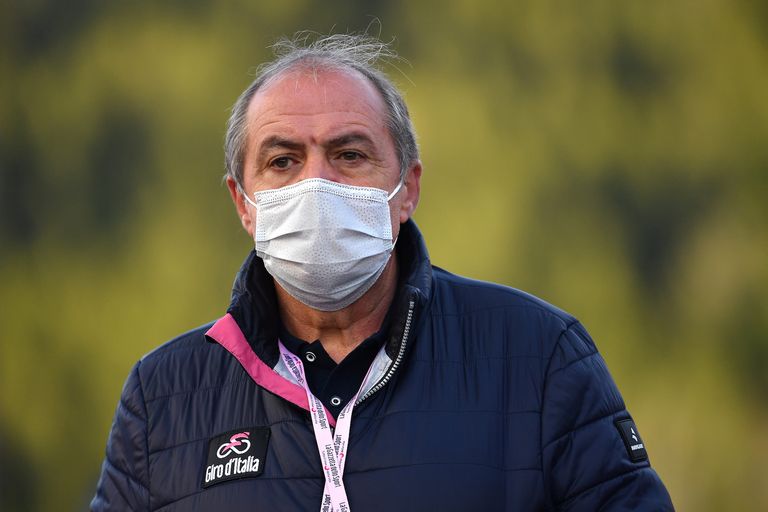 (Image credit: Getty Images,)
"I'm very upset about the way this has happened. It isn't the right way to resolve the issues that we face today," Vegni told Eurosport.
"I think there are going to be some words with lawyers because I don't feel it's been respectful to the race, to the people who want to watch the race...there will be consequences because of the behaviour of the riders today."
"What happened today will overshadow everything we did about [the race being held during the coronavirus pandemic]. This is what happes when riders don't show up at the start. Someone will pay for it," Vegni threatened.
Lotto-Soudal boss John Lelangue looked to put his organsation out of the line of fire soon after, saying his rider Adam Hansen was acting as a representative of the CPA riders' union in discussing the stage shortening, not on behalf of Lotto-Soudal.
Ellingworth says his squad would have preferred to profit from rider fatigue the day after the tough Stelvio stage and the day before three ascents of the Sestriere.
This refusal was due to the length of the planned 258km in dreary conditions, coming after a tough week of mountainous racing in cold weather and before a tough final test up the Sestriere tomorrow.
>>> Giro d'Italia peloton forced into protest after initial refusal to shorten stage, says Adam Hansen
Vegni pointed out that the stage had been announced a year ago, and everyone had known for a while that it would now be taking place in October the day after the Stelvio stage, arguing that complaints could have been made prior to the morning before the start.
"To clarify the situation today, our rider Adam Hansen was only acting as representative of the CPA," Lelangue said on Twitter. "There has never been any decision taken by the team Lotto-Soudal to strike or shorten the stage. We, as a team, are on the side of RCS Sport to race to Milano."
Rai Sport had suggested both Ineos Grenadiers and Bora-Hansgrohe also wanted to race the full length of the course, while Arnaud Démare told L'Équipe that his Groupama-FDJ were ready to take on the whole 258km.
"I saw a lot of these stupid protests. The two main CPA representatives weren't even warned about the protest. They should resign if they see that group is not with them.
"90% of the riders didn't know anything about today's protest. My riders didn't know anything about it. If you support things like that you shall not complain about team sponsors not remaining in the cycling environment.
"Some sports directors are not acting like riders' employers but as riders' servants. They don't have the balls to act like riders' employers. To do this work you must have balls. They are subjugated by riders because they are scared to lose their job."
"We didn't receive any request yesterday. We have been approached by some of the Lotto-Soudal riders [at the start of the stage]. I pointed out that [their] bus wasn't there and they would've been stuck in the cold. Then we started and the Lotto-Soudal bus wasn't there," the Italian explained in an interview with Rai.
"The stage was announced a year ago, they knew it was going to happen in October and a rainy day in October is quite a usual thing and 13°C is not cold. We haven't accepted the riders' proposal, we have suffered it.
Meanwhile, Bahrain-McLaren boss Rod Ellingworth told Eurosport that his team wasn't aware of the strike until his riders radioed through on the start line to say what was happening, with Ag2r La Mondiale's Larry Warbasse claiming in a since-deleted tweet that all teams had been consulted.
Bardiani CSF sports director Bruno Reverberi cut a less serene figure than his Bahrain-McLaren counterpart, incadescent with rage as he gave his opinion to Rai 2.
"Many riders don't agree with the decision. There are always those three-four riders that are all trying to destabilise the environment for their own convenience.
Giro d'Italia race director Mauro Vegni has vowed that "someone will pay" after the peloton went on strike and refused to ride the opening 130km of stage 18.
The race director says he didn't receive any request yesterday for the stage to be shortened, contradicting Adam Hansen's account that the proposal had been brought to RCS Sport after the finish of stage 18.
"This isn't over. Let's finish the race and reach Milan, then someone will pay."