Thibaut Pinot comments on 'ridiculous' Giro d'Italia downhill classification, now scrapped
FDJ leader Thibaut Pinot says that the Giro d'Italia's proposal to run a downhill classification didn't mean much to him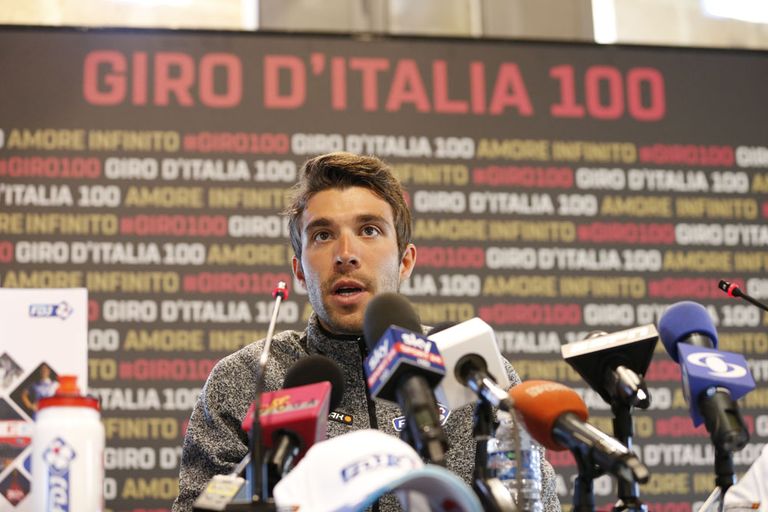 (Image credit: Yuzuru Sunada)
Frenchman Thibaut Pinot (FDJ), a cyclist known to struggle when the road turns downhill, says that measuring times on descents as the Giro d'Italia organiser proposed would be a "ridiculous classification".
Over the last week, the organiser RCS Sport rolled out its new classification of measuring cyclists on certain descents throughout the race's three weeks. It wanted to award €5,000 to the winner: he who had fastest overall time on the downhills.
"You're asking me! You know what I think!" Pinot said. "For me, it's a ridiculous classification."
>>> Giro d'Italia 2017: Latest news and race info
RCS Sport pulled the plug on the short-lived classification before the Giro d'Italia even set off. The race starts on Friday in Alghero, Sardinia.
The organiser wrote in a release issued on Wednesday: "The spirit of the initiative was to highlight an important skill which is an integral part of a cycle race without putting the riders' safety in jeopardy. Rider safety is, and remains, the priority of the Giro and the race organisers."
It will no longer offer money or a classification for fast downhill cyclists, but still keep their times. It said it would do so for the fans.
"Each person has their own domain. It's not of interest for all the riders," Pinot added.
"It's unanimous for the peloton that the prize doesn't mean a great deal. Especially since the best descender is quite often the one in the gruppetto and then they are not even filmed, so it doesn't really mean much."
Insiders mark Pinot as a Giro dark horse given his experience in the Tour de France and his steady spring campaign that yielded two wins, one in the Vuelta a Andalucía and another one on the final stage of the Tour of the Alps. He placed second overall in the Alps to Geraint Thomas, who will lead team Sky.
Pinot shook his head when asked about his free time after the Alps. He was not able to train when he heard the news of Michele Scarponi's death. The two had just raced together in the Alps. "It wasn't easy for me," he added.
The 26-year-old leads team FDJ after placing third in the 2014 Tour de France and won two stages, including the summit finish on Alpe d'Huez in 2015.
"It's true that I'm coming to the Giro for the first time after two failures in the Tour trying for the overall classification, but regardless, I said before in last year's Tour that I wanted to do the 100th Giro," Pinot said.
"Quintana is the strongest, everyone says that, then there are around 10 riders at the same level behind. The start list is almost the same as the Tour de France, almost all the teams have a classification leader. There will always be a team to ride behind the breakaways."