Watch: Sunweb rider throws bottle at neutral service car which had driven into him; gets fined by commissaires
100CHF fine for Roy Curvers' "unseemly behaviour"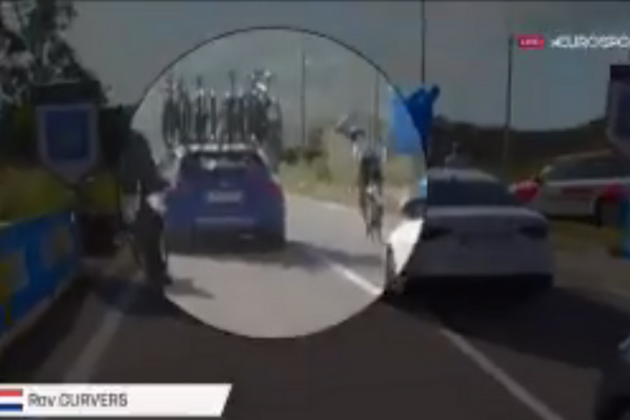 Team Sunweb's Roy Curvers found himself on the end of a 100CHF (£75) fine after he threw a water bottle at a neutral service car which he said drove into him on stage five of the Giro d'Italia.
The incident took place as Curvers passed under the 10km-to-go banner on Wednesday's stage into Santa Ninfa as the Dutch rider eased off the gas at the back of the peloton to allow himself a relatively relaxed last few kilometres to the finish and save his legs for Thursday's summit finish to Mount Etna.
However as he dropped back from the peloton, Curvers felt a tap on his shoe and realised that he had been hit by the Shimano neutral service car which was trying to get around him.
>>> Five talking points from stage five of the Giro d'Italia
Channelling his inner Mario Cipollini, Curvers removed his bottle from his bottle cage and hurled it at the window of the passing car, before rolling on to the finish more than eight minutes down on stage winner Enrico Battaglin.
"What happened there? He drove into me," Curvers told Dutch television channel NOS after the stage. "I dropped off the peloton and at once I got a slap against my shoe. He was not being very careful, I think."
"You cannot talk to a car, it does not say anything back, but you want to make your feelings clear in some way. It's just a piece of plastic against his window."
However race commissaires took a dim view on Curvers actions, issuing him with a 100CHF fine for "insults, threats, or unseemly behaviour".
The incident was not the only near miss for a rider in Thursday's Giro stage, with solo breakaway rider Andrea Vendrame almost coming to grief as he was overtaken by a race motorbike.
Thankfully Vendrame avoided any possible collision, but we hope the motorbike rider got a stern talking to but race officials at the finish.