Ian Bibby finally wins Lincoln GP; Alice Barnes triumphs for second successive year
- Ian Bibby (JLT-Condor) won the 62nd edition of the Lincoln GP from Rory Townsend (Bike-Channel Canyon) and Matt Holmes (Madison-Genesis); - Alice Barnes (Drops Cycling) proves the strongest rider in the women's race for the second successive year, retaining her 2016 title. - Photos by Andy Jones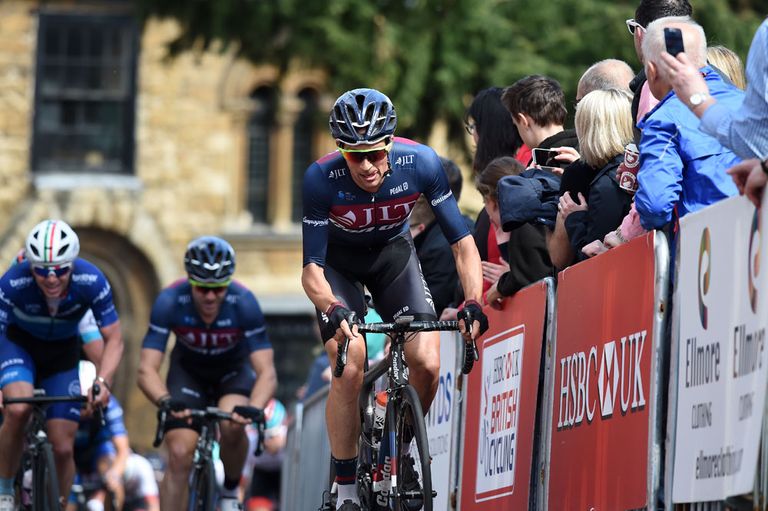 Experience proved crucial to victory at the Lincoln GP on Sunday, as Ian Bibby (JLT-Condor) righted the wrongs of the past to win the iconic race for the first time, and Alice Barnes claimed her second consecutive triumph at the race.
After the day's breakaway had been caught with two of the 13 laps remaining, Bibby attacked on the final ascent of the one-in-six, cobbled climb of Michaelgate on the last lap to take the race honours from Bike Channel-Canyon's Rory Townsend and Matt Holmes of Madison-Genesis.
It is the third time Bibby has finished on the podium at the classic British race, but only the first time he has stood on the top step. It was also his second victory of the Spring Cup Series, having won at the Chorley GP a few weeks prior.
Townsend's second place meant that he overtook Enrique Sanz (Raleigh-GAC) to be crowned winner of the four-round Spring Cup.
In the women's race, Barnes once again showed her class is superior to her domestic rivals, launching her move at the same point as Bibby would do later on, and holding off the challenge of Emily Nelson (Team Breeze) and Lydia Boylan (Team WNT).
"I've been trying to win this one for years," Bibby, who raced for the now-defunct NFTO before joining JLT in the winter, said afterwards. "I've been on the podium a few times but it's never worked out, so I'm happy."
Bibby owed his success to a change of approach. As Michaelgate flattens out and the surface becomes tarmac in the final 75 metres, in previous years Bibby has dropped a gear, attributing his failure to win to that.
This time round, though, he kept his gear in the bigger ring and was able to solo home. He added: "I always lose it on that last bend where it goes smoother as I'm always in the little ring.
"With a lap to go I thought I would try it out in the big ring and it was alright. So on the last lap I left it in the big ring and it was amazing how much better it was.
"I carried the speed off the cobbles onto the flat. Normally I stop dead but this time it worked out."
Barnes, who finished in the top-10 at both Ronde van Drenthe and Gent-Wevelgem earlier this spring, was the favourite in the women's race and nullified attacks to make sure it was her who raised her arms in celebration.
She said: "I was attacked six times in that last lap. I had to be aware and jump on any attacks before they'd actually gone.
"You have to lead it into the climb on the last lap otherwise you can get stuck behind someone with a slipped chain.
"I went from the very bottom [of the climb]. I had to keep going, looked around, seen I had a bit of a gap and I knew I was quite safe. It's nice. I was the feeling the pressure so I'm glad I could pull it off."