Lotto-Soudal reveal new kit for 2018 season in slightly odd photo shoot
Would you let Nikolas Maes anywhere near your hair?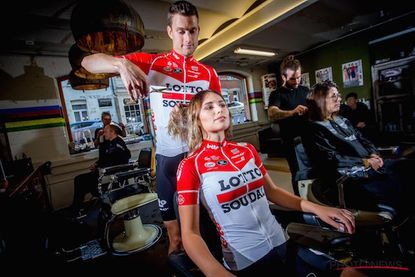 (Image credit: Photo News/Lotto Soudal)
Lotto-Soudal have revealed their new kit for the 2018 season, with the new design featuring more white than the jerseys worn in previous years.
>>> Dimension Data trick Twitter users with fake white shorts photo
In a slightly quirky photo shoot that involved team riders Nikolas Maes and Puck Moonen posing as bike mechanics, riding around a mini indoor velodrome, and - completely inexplicably - turning up in a hairdressers, we get a pretty good look at the new kit, which is once again produced by Belgian clothing company Vermarc.
Unlike the previous version of the kit, the updated 2018 jersey bears less of a resemblance to the iconic Flandria kit from the 1970s and more of a resemblance to the Faema jersey of the same era, now having a red top half and white bottom half, rather than the red, white, red pattern as was the case this season.
The new kit also contains some colourful bubbles over the pockets and the rear of the jersey, with the Lotto-Soudal logo given more prominence on the back of the jersey and a new Soudal logo given pride of place on the riders' backsides.
>>> Movistar confirm new bright blue jersey for 2018 season
Of course, with both the men's and women's teams consisting of predominantly Belgian riders, the black, yellow, and red of the Belgian tricolour features prominently on the sleeves of the jersey and hems of the shorts.
The same kit will be worn by both the men's and women's teams for the 2018 season, with the team thankfully resisting the temptation to opt for white or - even worse - red shorts.
We'll also be on the look out for a special grey, red, and white Lotto-Fix All kit, which the men's team usually rolls out for Paris-Nice in order to promote Fix All, a best-selling adhesive for the Soudal chain of hardware stores.
Thank you for reading 20 articles this month* Join now for unlimited access
Enjoy your first month for just £1 / $1 / €1
*Read 5 free articles per month without a subscription
Join now for unlimited access
Try first month for just £1 / $1 / €1