Michael Woods: 'I hope Vaughters saves Cannondale-Drapac, but I can't afford to let options pass by'
The Canadian rider says he's not enjoying having to consider his options and focus on his GC campaign at the Vuelta a España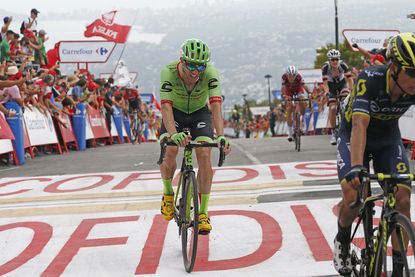 (Image credit: Yuzuru SUNADA)
Canadian Michael Woods wants to wait for team Cannondale-Drapac to find a replacement sponsor for 2018, but can't "afford to just sit around and let options pass by."
Last week, general manager Jonathan Vaughters announced that he had not secured a sponsor and that his riders – including Pierre Rolland and Rigoberto Urán – were freed from contractual obligations for 2018.
>>> Sep Vanmarcke: 'I hope Cannondale-Drapac can continue, but I cannot afford to wait'
Woods, who is climbing alongside Chris Froome (Sky) and sitting inside the top-10 overall in the Vuelta a España after 14 stages, is starting to consider his options.
"The big message is that I'd love to stay with this team and I really like this team," Woods told Cycling Weekly. "They gave me a shot to race here the Vuelta. They signed me as a neo-pro when I was 29-years-old, and that's very rare.
"If JV is able to pull something off I'd love to be a part of this team next year, but that being said, I want to stay in the WorldTour and I can't afford to just sit around and let options pass me by in the not have a team next year."
Vaughters indicated on Twitter that he is working on a solution and that an announcement may come after the holiday weekend in the US. He said that he needs $7 million (£5.4m) to continue the team with a $16 million (£12.4) budget.
The team created a crowd-funding initiative after the announcement last week that the new sponsor had fallen through.
Sources told Cycling Weekly that online gambling website Unibet was due to sponsor but decided against it in a board meeting vote.
The Indiegogo campaign announced on Wednesday is up to $421,640 (£325,000) of the $2 million (£1.54m) goal. Existing backer Fairly Group said that it would kick in $2 million as well.
Riders, however, are anxious. Sep Vanmarcke said that he is "really worried" and "cannot afford to wait."
"I'm talking to a few teams and my agent is doing a good job," continued Woods, who has interest from Team Sky. "We only want to go to a team that I'm comfortable with and that I believe in, and that'll give me opportunities in the Ardennes Classics.
" I want to focus on this Vuelta. It's been difficult the last few days to manage both. I go to bed thinking whether or not a team is interested and whether or not that team could be a good fit for me.
"I think about whether or not JV could pull it off. It's difficult for me to think about when I want to sign, but the major thing for me now is to just focus on this race and put it out of my mind."
Thank you for reading 20 articles this month* Join now for unlimited access
Enjoy your first month for just £1 / $1 / €1
*Read 5 free articles per month without a subscription
Join now for unlimited access
Try first month for just £1 / $1 / €1