MPCC calls on UCI to open investigation into motorised bikes following French TV report
Movement for Credible Cycling calls for action after French TV report claimed motors were used in two recent Italian races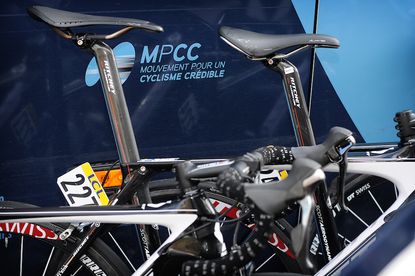 The Movement for Credible Cycling (MPCC) has called on the UCI to investigate claims made by a report on French TV programme Stade 2 that motors were used at Strade Bianche and Coppi e Bartali.
The Moteurs ça tourne report claimed that heat sensors detected motors in some of the bikes used in the Italian races, with heat detected in the seat tube on five bikes and two in the hub of the rear wheel.
Cycling's governing body claimed their methods for detecting motors in bikes were the best available, but the MPCC is now calling for thermal cameras to be used.
"[The MPCC] calls on the UCI to immediately open an internal investigation and to take the necessary action so that the fight against technological cheating will be strengthened," a statement read.
"As such, the MPCC stresses that the contribution made by the European Cycling Union (UEC), which is member of MPCC, offers several proposals able to be established very quickly. For example, setting up in-race random testing areas with the help of thermal cameras, etc"
The MPCC also said that all possibilities of legal action should be explored "to punish the cheaters and protect cycling's integrity".
Former pro rider Romain Feillu claimed it would be "impossible" to use a bike equipped with a motor in the WorldTour because of the number of people involved in a team.
"There are a minimum of three mechanics per team. All wheels are handled and picked up because the bikes are washed daily. I think that this [mechanical doping] is completely impossible. If there was the intention to cheat then everyone would be required to be in on it and inevitably someone would talk at one time or another," he told cyclingpro.net.
Thank you for reading 20 articles this month* Join now for unlimited access
Enjoy your first month for just £1 / $1 / €1
*Read 5 free articles per month without a subscription
Join now for unlimited access
Try first month for just £1 / $1 / €1