Olympic gold medallist Dani Rowe retires from racing at 28
The Brit had a strong season on the road but is saying goodbye to the peloton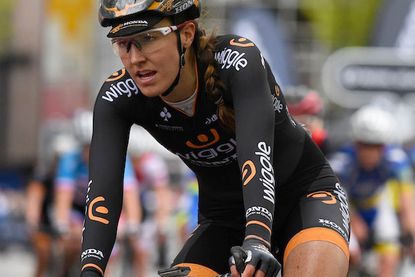 Olympic gold medallist and three-time track world champion Dani Rowe has announced her retirement from racing at 28.
Rowe, who rode for WaowDeals Pro Cycling during the 2018 season, announced on Wednesday she would be leaving the peloton.
During her career Rowe, née King, has been a multiple national champion, multiple European champion, Commonwealth Games medallist, three-time world champion and won Olympic gold.
>>> Trek-Drops women's team saved thanks to fundraising campaign
She said: "After 14 years of dedicating my life to a bike, I've decided to go out on a high after the satisfaction of achieving everything and more in the sport that I ever set out to.
"I feel privileged to be able to finish my professional cycling career on my own terms and in a great place mentally with the sport.
"I'm an achiever and I'm driven through hitting and improving targets I set myself.
"After winning a medal in the Commonwealth Games I have won a major medal in all that I can in cycling and now it's time to enter the next chapter of my life."
>>> Olympic sprinter Jess Varnish's case against UK Sport could have major impact for athletes, according to lawyers
Rowe joined Vision 1 Racing in 2009, before focusing on the track for the next few years.
In 2013 she joined Wiggle-Honda Pro Cycling, before leaving for Cylance Pro Cycling in 2017, seeing out her career with WaowDeals Pro Cycling.
This year, Rowe finished third at the Women's Tour, second at the Tour de Yorkshire and won bronz in the Commonwealth Games road race.
She won a track gold at the 2012 London Olympics in the team pursuit and has multiple World Championship and European Championship golds on the boards.
Rowe added: "I feel that it would have been an easier decision to carry on cycling, as it's something that's defined me since the age of 14.
"It's a scary world outside of professional sport but one I'm willing to jump into with open arms, taking opportunities that I wouldn't have been able to when cycling.
"Cycling has enriched my life in so many ways, and given me the highest of highs and also plenty of lows that have shaped me into the person I am today, and I will always be so thankful for that.
"I want to take this opportunity to thank everyone who has been on this amazing journey with me, but especially my parents, sister Sarah and husband Matt who have provided the most amazing support."
Rowe founding cycle coaching company Rowe and King in 2015, along with husband Matt, brother-in-law and Team Sky rider Luke Rowe and Courtney Rowe.
She added: "I've already got exciting plans in place for 2019, including how I remain in this amazing sport, and I look forward to sharing this with you in the New Year."
Thank you for reading 5 articles this month* Join now for unlimited access
Enjoy your first month for just £1 / $1 / €1
*Read 5 free articles per month without a subscription
Join now for unlimited access
Try first month for just £1 / $1 / €1