Olympic sprinter Jess Varnish's case against UK Sport could have major impact for athletes, according to lawyers
The case will decide if Varnish was self-employed or an employee as an athlete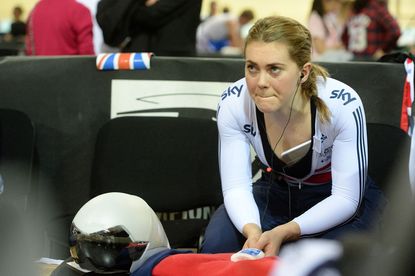 The legal case between Olympic cyclist Jess Varnish and UK Sport could have a big impact on athletes in other sports, according to her lawyers.
Varnish has taken British Cycling and UK Sport to an employment tribunal after she was dropped from the elite programme in 2016.
The 28-year-old claims she was unfairly dismissed, with the case to be heard at Manchester Employment Tribunal from December 10-17.
Varnish's hearing will decide if she was self-employed or an employee as an athlete receiving UK Sport funding.
Her lawyer, Simon Fenton said that the case could impact athletes across sport.
>>> Trek-Drops women's team saved thanks to fundraising campaign
Fenton, a partner at Constantine Law, said: "The purpose of demonstrating that UK Sport-funded athletes should be regarded as employees or workers is to ensure that all athletes in the future will have protection from bullying and discrimination, be subject to income tax and receive full state pension allowances."
He added that it would ensure UK Sport presides over a more "positive and egalitarian environment."
Varnish was pulled from British Cycling's elite programme in April 2016, shortly before she publicly alleged sexual discrimination by former technical director Shane Sutton.
>>> Chinese WorldTour team launched with Shane Sutton directing
Sutton denied the allegations but an internal investigation upheld that he used "inappropriate and discriminatory language" towards Varnish.
The full report has not been published, but it later emerged that only one of nine complaints against Sutton was upheld.
He resigned from his post in 2016 and later took up a role with the Chinese national track squad.
If the employment tribunal rules Varnish is an employee, it will open up the possibility of pursuing a sex discrimination claim against British Cycling and UK Sport.
The case has been compared to the 1995 Bosman ruling in football, which allows players to move to a new club at the end of their contract without their former team receiving payment.
Thank you for reading 5 articles this month* Join now for unlimited access
Enjoy your first month for just £1 / $1 / €1
*Read 5 free articles per month without a subscription
Join now for unlimited access
Try first month for just £1 / $1 / €1