Peter Sagan wins European Championships road race title (video)
World champion Peter Sagan adds another win to his ever-increasing palmares - the inaugural European elite road race title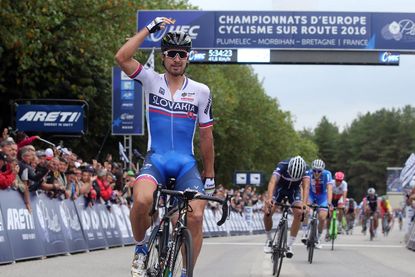 (Image credit: Watson)
Peter Sagan added the European road race title to his world title on Sunday in Brittany, France. The Slovak came out on top in the inaugural European elite championship in Plumelec, beating Frenchman Julian Alaphilippe to the line.
"I'm extremely happy to be the first ever European Road Champion and it's an honour for me to take the Slovak colors to the highest spot of the podium," said Sagan in a statement after the victory.
"As expected, it was a long and tough race, but in the final lap my legs were strong and I thought I had what it took to jump at the opportunity when it arose.
"I waited until I felt the timing was right to attack and take my chance, although it wouldn't have been possible without the dedicated work of all my Slovak team-mates."
Sagan out-sprinted Alaphilippe at the end of the gruelling 236-kilometre to claim the title, with Spain's Daniel Moreno completing the podium positions in the men's road race. Great Britain did not field a rider in the race.
Olympic road race champion Anna van der Breggen took the victory in the women's road race ahead of trade team-mate Katarzyna Niewiadoma (Poland). Elisa Longo Borghini (Italy) placed third to claim bronze in the inaugural elite women's race. Britain's highest-placed finisher was Abby-Mae Parkinson in 38th.
https://www.youtube.com/watch?v=VlIU9bzcEFE
Like Sagan, van der Breggen will hoping to perform well in the 2016 World Championships in Doha, Qatar in October.
"We still have the world championship coming up," said van der Breggen. "The course might not suit me as much as here but we race a lot in Qatar and we have strong girls for this kind of racing in the desert. I'll be happy to contribute to the team work next month."
Spaniard Jonathan Castroviejo and Dutchwoman Ellen van Dijk took the elite men's and women's time trial titles respectively.
Britain's Sophie Wright placed third in the junior women's road race to take bronze behind Liane Lippert of Germany.
The 2016 European Road Cycling Championships were relocated to Brittany from Nice, after security concerns in the wake of the terrorist attack in July.
European Road Cycling Championships 2016
Elite men's road race, 236km
1. Peter Sagan (Slovakia) in 5-34-23
2. Julian Alaphilippe (France)
3. Daniel Moreno (Spain) at same time
Elite women's road race, 111.2km
1. Anna van der Breggen (Netherlands) in 2-55-55
2. Katarzyna Niewiadoma (Poland)
3. Elisa Longo Borghini (Italy) at same time
Other
38. Anny-Mae Parkinson (Great Britain) at 43 secs
48. Annasley Park (Great Britain) at 1-01
DNF Manon Lloyd (Great Britain)
DNF Hayley Jones (Great Britain)
DNF Alice Barnes (Great Britain)
DNF Grace Garner (Great Britain)
U23 men's road race, 150.7km
1. Alexandr Riabushenko (Belarus) in 3-32-43
2. Bjorg Lambrecht (Belgium)
3. Andrea Vendrame (Italy) at same time
Other
5. Gabriel Cullaigh (Great Britain) at same time
51. Tao Geoghegan Hart (Great Britain) at 37 secs
62. Oliver Wood (Great Britain) at 1-31
70. Jonathan Dibben (Great Britain) at 3-00
86. Mark Stewart (Great Britain) at 5-14
DNS James Shaw (Great Britain)
U23 women's road race, 111.2km (run at same time at elite women)
1. Katarzyna Niewiadoma (Poland)
2. Cecile Uttrup (Denmark)
3. Severine Eraud (France)
Junior men's road race, 123.3km
1. Nicolas Malle (France) in 3-03-49
2. Emilien Jeanniere (France)
3. Tadej Pogacar (Slovenia) at same time
Other
15. Ethan Hayter (Great Britain) at 10 secs
38. Adam Hartley (Great Britain) at 10 secs
53. Alfred Wright (Great Britain) at 56 secs
58. Robert Scott (Great Britain) at 1-29
61. Thomas Pidcock (Great Britain) at 2-36
102. Etienne Georgi (Great Britain) at 4-49
Junior women's road race, 68.5km
1. Liane Lippert (Germany) in 1-54-14
2. Elisa Balsamo (Italy) at 4 secs
3. Sophie Wright (Great Britain) at same time
Other
11. Jessica Roberts (Great Britain) at 17 secs
24. Eleanor Dickinson (Great Britain) at 30 secs
29. Lauren Dolan (Great Britain) at 45 secs
47. Henrietta Colbourne (Great Britain) at 5-56
52. Emily Wadsworth (Great Britain) at 6-00
Elite men's time trial, 45km
1. Jonathan Castroviejo (Spain) in 58-13
2. Victor Campenaerts (Belgium) at 30 secs
3. Moreno Moser (Italy) at 39 secs
Elite women's time trial, 25.4km
1. Ellen van Dijk (Netherlands) in 36-41
2. Anna van der Breggen (Netherlands) at 18 secs
3. Olga Zabelinskaya (Russia) at 23 secs
Other
34. Alice Barnes (Great Britain) at 4-07
42. Abby-Mae Parkinson (Great Britain) at 4-39
U23 men's time trial, 24.5km
1. Lennard Kamna (Germany) in 33-59
2. Filippo Ganna (Ita) at 30 secs
3. Remi Cavagna (France) at 35 secs
Other
9. Tao Geoghagen Hart (Great Britain) at 1-39
33. Jonathan Dibben (Great Britain) at 3-17
U23 women's time trial, 25.4km
1. Anastasiia Iakovenko (Russia)
2. Kseniya Tuhai (Belarus)
3. Lisa Klein (Germany)
Junior men's time trial, 25.4km
1. Alexys Brunel (France) in 35-58
2. Marc Hirchi (Switzerland) at 11 secs
3. Iver Knotten (Denmark) at 11 secs
Other
11. Ethan Hayter (Great Britain) at 1-00
35. Alfred Wright (Great Britain) at 3-18
Junior women's time trial, 12.7km
1. Lisa Morzenti (Italy) in 19-02
2. Alessia Vigilia (Italy) at 14 secs
3. Juliette Labous (France) at 22 secs
Other
4. Jessica Roberts (Great Britain) at 42 secs
7. Henrietta Colbourne (Great Britain) at 47 secs
Thank you for reading 20 articles this month* Join now for unlimited access
Enjoy your first month for just £1 / $1 / €1
*Read 5 free articles per month without a subscription
Join now for unlimited access
Try first month for just £1 / $1 / €1