'It's possible to beat Chris Froome head-to-head if there's the right situation'
Vincenzo Nibali is preparing with his new Bahrain-Merida team to conquer the Giro d'Italia and then the Vuelta a España in 2017, where he'll likely come head-to-head with Chris Froome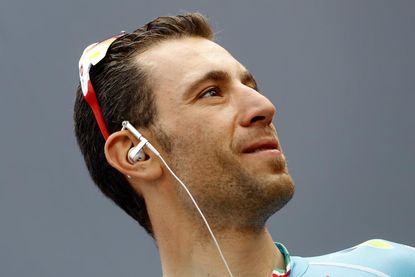 (Image credit: Watson)
Bahrain-Merida team leader Vincenzo Nibali is eyeing a head-to-head battle with Team Sky's Chris Froome at the Vuelta a España this year.
The defending Giro d'Italia champion and winner of all three Grand Tours aims for a third Giro title and another in the Vuelta a España this August against Froome.
"Could I take him in a head-to-head match? It depends," Nibali told CW in Bahrain. "It could be possible if there's the right situation."
On each of Nibali's four Grand Tour wins, Froome has been absent.
Froome abandoned the cobbled stage to Arenberg, when Nibali paved his way to the 2014 Tour de France overall win. He returned to defend his
title in 2015, but suffered and placed fourth behind victor Froome.
However, Nibali has previously expertly handled Froome in smaller stage races. He masterminded a coup in the rain-soaked central Italian hills to take the 2013 Tirreno-Adriatico lead from Froome.
"If I can surprise him, like on many occasions, it's easier. You have to try from far out, like Nairo Quintana [in the 2016 Vuelta] and how I've done in the past," Nibali added.
"It's harder to do in the Tour, but the Giro and Vuelta offer more possibilities.
"But if he has his top condition on a summit finish, with a big team around him, it's hard to make the difference. Sky is the strongest team because they make a big investment to have strong riders around Froome."
Nibali hopes for such a surprise in the Vuelta, which he won in 2010. Froome is still trying for his first Vuelta title having finished second three times.
Success would be a boost for Bahrain-Merida boss Prince Nasser bin Hamad Al Khalifa, who has been under attack since he announced his plans for a WorldTour team last year.
Critics say the UCI should have refused the team a licence given the government's shutdown of anti-government protests in 2011, and claims that the authorities abused and tortured demonstrators.
Prince Nasser told CW that the team will help build solidarity in the island kingdom. "This is how we bring people together. Sport is actually the answer. We needed this [given the tensions]. It is working very well."
Thank you for reading 5 articles this month* Join now for unlimited access
Enjoy your first month for just £1 / $1 / €1
*Read 5 free articles per month without a subscription
Join now for unlimited access
Try first month for just £1 / $1 / €1