'When another rider tested positive, we thought he was stupid, but we took same thing'
Former pro Michael Boogerd opens up in interview with other ex-pros about doping during his career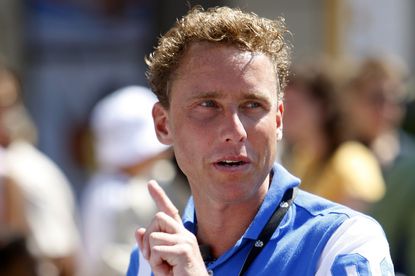 (Image credit: Yuzuru SUNADA)
The dopers were the ones that were caught, not the one using EPO and other drugs, says former Dutch professional Michael Boogerd of the 1990s and 2000s.
In 2013, Boogerd confessed to doping with EPO, blood transfusions and cortisone. It tainted a career that included wins in the Amstel Gold Race, Paris-Nice and two stages in the Tour de France.
>>> How drone technology could be used by motor doping cheats
His career ran from 1993 to 2007, during the time Lance Armstrong dominated and EPO use was rampant.
"It was a time when doping might be common in the peloton, but that pressure I had never known, no one wants to get rid of the misery, it still continues to haunt me," Boogerd told Sporza television.
"At the time I cycled, riders also tested positive, and then we thought, 'Jesus, what a stupid dick.' Not because we [were perfect], but you thought what a bastard, he had taken too much while I actually did the same, but I never tested positive.
"You think that you do not do anything wrong, but later you come crashing down. "
His confession led to a doping ban and his results from 2005 to 2007 were stripped. It was the time when he helped Rabobank team-mate Michael Rasmussen in the Tour de France. The Dane was booted from the Tour for missed doping controls beforehand and later admitted to cheating.
Boogerd retired in 2007, but it took time and pressure before his 2013 confession.
"When the Armstrong story came out [in October 2012], I was pulled into his wake. In the Netherlands it was a big hype, I was not left alone for a day, and even during my wife's delivery I was called seven times and I was really stalked by the media," Boogerd said.
"From October to March, I thought of confessing. It was an emotional roller coaster, especially because you do not expect it anymore, but in the end I knew it, this was no longer life."
Boogerd now manages the professional continental team Roompot. He spoke in the interview with former Rabobank team-mate Erik Dekker.
"We still view them as champions," Dekker said of past stars like Boogerd, Jan Ullrich and Lance Armstrong.
"We also have respect for Armstrong, how he was as a sportsman. He did something that was not allowed, but at the basis, you have respect for a rider who works so hard and trains to stand out."
Thank you for reading 5 articles this month* Join now for unlimited access
Enjoy your first month for just £1 / $1 / €1
*Read 5 free articles per month without a subscription
Join now for unlimited access
Try first month for just £1 / $1 / €1