Steve Cummings: Doing it his way
It's been a remarkable two years for the Brit, who sat down to talk about his success with CW in Italy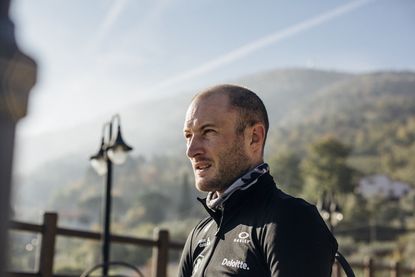 (Image credit: Chris Catchpole)
Sat in the cold winter sunshine outside a cafe in Vinci, Tuscany, the birthplace of Leonardo da Vinci, an Americano on the table in front of him and the church bells clanging every 30 minutes, Steve Cummings looks content amid the Italian way of life.
Far from the Wirral, Merseyside, where he grew up, Cummings has called Tuscany home for the past eight years. Aside from the food, numerous climbs, endless roads and good weather that means he generally doesn't miss a day of training, it's the sense of freedom in Italy that the 35-year-old loves most.
"Everyone's free, they live with common sense and not too many rules and I like that," Cummings tells Cycling Weekly. "I like freedom. You see when you come here — I'm just free. I'm on my own, I do what I want."
It's freedom, Cummings says, that has been the key to his success the last two seasons, which started with a maiden stage win at the Tour de France in 2015, and continued this year to what he called the best season of his 12-year pro career "by far".
Three victories in WorldTour races — Tirreno-Adriatico, Tour of the Basque Country and Critérium du Dauphiné — were followed by a second Tour stage win, and rounded off with the overall win at the Tour of Britain in September.
He cites his Dimension Data team, which he joined at the start of 2015, as being the catalyst to letting him realise his own potential; released from the constraints of having to protect a team-mate chasing the general classification, as he had in the previous squads he'd been in, they gave Cummings permission to chase victories. And chase them he has, repeatedly, often on lone, solo maverick missions.
"This year everything fell into place," he says. "I don't know whether because I won early that took away pressure, you think 'sod it, I'll go' and just try.
"It's just a combination of those things [why I've performed well], confidence, freedom from the team, and then just not having bad luck."
The Tour de France victory in 2015, in which Cummings outsmarted French duo Romain Bardet and Thibaut Pinot for his South African team on Mandela Day was another defining moment he credits for his success this year.
"It definitely gave me the confidence that I could win at the highest level," he continues, admitting it took him months before he could come to terms with what he'd achieved, and watch the footage back on TV. "Then this year I've just been trying more and more crazy stuff.
"And it's been working. Confidence breeds confidence, and sometimes you think too much as a rider. This year I didn't think, I would just go."
Considering how much Cummings says he loves winning, and how assertive and assured he sounds in his own ability, it's surprising to learn that wasn't always the case. Early in his career, when he was part of British Cycling's Performance Programme racing on the track, he admits he struggled with a fear of failure.
"I was scared to fail. For a few years I'd only try now and again," Cummings explains. "It was a self-protection thing, I wasn't sure if I was good enough, so I could justify it in my own mind by saying, 'I didn't really try so I don't really know.'"
It was only when the then performance director Dave Brailsford told him in 2003 he was going to be removed from the programme if he carried on, that he sought to change his outlook with the help of a sports psychologist.
"He helped me focus and plan, and from that moment I took control of everything and started to get the best out of myself consistently," he says.
"They [BC] encouraged us to do our own programme, to do our own plan, that worked really well for me — it gave me a belief. There's been points in my career where people have tried to do that for me but it hasn't worked. If I don't believe in the goal or the process then I can't really commit to it."
Stepping stones
Cummings first started cycling with the Birkenhead North End Cycling Club when he was a teenager. Chris Boardman, then the country's most famous cyclist having won Britain's first Olympic medal in the sport for 72 years, was from the local area and his father Keith coached Cummings through the club.
"It was good because I could just go out all day and be out of trouble," Cummings remembers. "I enjoyed it and I was quite good straight away, quite strong — you kind of enjoy what you're good at."
In 1999 aged 17, he became the first ever junior to win the Eddie Soens Memorial Race and added victories in the National Junior 10 and Junior National Road Race that year. Two years later he joined British Cycling's Performance Programme as lottery funding was introduced, and started racing on the track, going on to win silver as part of the team pursuit at the Athens Olympics in 2004 alongside Bradley Wiggins, Rob Hayles and Paul Manning.
Though Cummings enjoyed his time in the velodrome, particularly the relationship he had with his team-mates, he saw it as a way to progress to racing on the road full-time.
"I was never in love with the track, never mad on it. I was just doing it like a stepping stone," he says. "It was a chore; it's quite suppressing being a track rider."
He left the track, however, head- strong and full of belief in his own convictions, moving to Belgium in 2005 after signing his first pro contract with Landbouwkrediet- Colnago, determined to make a career on the road. He lived with his directeur sportif on and off for two years, though the team didn't speak much English and he didn't speak much French or Flemish.
Even then Cummings was trying to carve a place for himself in the sport, a role within the team, a niche, something he could make his own. While many others were content to follow team orders, get in breakaways to get the team exposure, he had higher ambitions.
"I wanted a bit more than that, I wanted results," he says. "It forced me to think for myself. I wanted to be better, using my own brain and thinking for myself, how am I going to get a result here? It's helped me in the long run."
Outspoken
Stints followed at Discovery Channel — "Sheryl Crow was at a training camp in California, Lance [Armstrong] was there, George Hincapie, all these stars and I was a bit in awe of it to be honest"— Barloworld, where he first moved to Italy and shared a flat with Geraint Thomas and Mark Cavendish, then two years at Sky and three at BMC, before he settled at Dimension Data.
It was at the biggest squads, Sky and BMC, that Cummings struggled most to fit in. Though his results included a stage win at the Tour of the Algarve and second at the Tour of Britain in 2011, as well as his first Grand Tour stage win at the Vuelta a España in 2012, his form was inconsistent.
"The bosses couldn't understand, one day I'd be not so good and the next day I'd be really good," he says. "I was never going to be a big rider in those teams, they were more about winning GC. In the end there probably wasn't space for a rider like me."
He almost quit cycling in 2014. With his contract at BMC coming to an end he thought he was being kept on, but found out elsewhere he wasn't, and struggled to find a new team before MTN-Qhubeka [now Dimension Data] came along.
"That was the moment I was ready to stop, if nothing came up I was like, 'This is fate,'" he says. "I believe in that a lot. I'd always given my best so even if I had stopped I'd be like, 'Well, I gave my best.'"
Cummings readily admits he clashed with management, which is partly why he's moved teams so much during his career. While he will turn to people for advice, even when he was at school, he jokes he struggled with people telling him what to do.
"Often I was frustrated — [the team] would give me a programme, training camps — and it was doing nothing for me," he recalls. "At times I wasn't getting the best out of myself — these people who think they know me better than I know me," he says.
He isn't afraid to say what he thinks either, which is again where Cummings says he's often got into "trouble". "I'll keep my mouth shut unless they ask. But if they ask I'll tell them what I think. If you don't want to know, don't ask!"
Indeed, after initially not being selected for the road race at the Rio Olympics this summer despite having three WorldTour victories, he criticised Great Britain road endurance coach Rod Ellingworth, citing a conflict of interest between his role as GB coach and at Team Sky in the selection.
At the time Cummings admitted he knew speaking out could affect his relationship with the GB squad, and potentially his chances of riding in his national colours again, but he felt so strongly he said it anyway.
"It wasn't a good decision I don't think [his initial non-selection] but that's my decision and they've got their opinion," he says, insisting that his relationship with the other riders on the squad was fine when he was named in the squad after Peter Kennaugh withdrew.
"I think people respect I'm big enough to say what I think — people like that."
There have been those that have criticised Cummings however, for not being a team player, saying he will only race a certain way, and only ride for himself not others if he thinks he has a chance of winning.
"Yeah, I'm selfish," he says with a smile when it's put to him. "Right at this point I still think I can win bike races, and I don't need to change to being a helper and supporting someone else.
"But at the same time if you ask me to pull for Mark Cavendish I'll give everything I have, because there's nothing for me to do in those stages [the flat races targeted by sprinters]."
Yet would he work for a team-mate if asked on a day he thinks he has a chance of winning himself?
"You need to talk about the tactic really," he says, before referring to his victory at Tirreno- Adriatico in March. Cummings was working for his team-mate Edvald Boasson Hagen in the closing kilometres, before finding himself in the race-winning move and being given the green light to go for the win himself.
"It's just being smart and playing your cards as best you can but that's smart tactics; it's good tactics," he says.
Lone wolf
Just like his racing style, it's not a surprise to learn Cummings trains alone. Despite other riders living nearby in Tuscany he prefers solitude as he can just get his head down and get on with training, without getting distracted. He even rides up the same climb once a week, using it as a gauge to test where his fitness is.
"Everything I've achieved is because I've built this engine," he says. "It's just from hard work and to do that you have to go on your own, train the engine, tune the engine up as much as you can — and the best way to work is alone."
He eats at the same restaurant in town each night when he's at home alone and his family are back in the UK, although it's a signed Mark Cavendish world champion jersey they have framed on the wall inside — for all his success Cummings isn't the biggest star in this part of the world.
Away from the bike Cummings says he's totally different than the lone wolf he is on the bike.
He loves watching his beloved Liverpool FC play and has dabbled as a DJ for years, mixing his own dance and electronic music.
"Last year I bought Ableton Live — it's a proper studio thing where you can literally make your own beats from nothing. It's like a pad and you hit it, I was kind of getting into it then the baby came and I haven't touched it for a year!" he says.
It's little things like spending time with his family — his wife and young daughter split their time between Italy and the UK — which he enjoys most though, even though that time can be limited.
"Cycling kind of consumes you, it's hard. It kind of dictates everything," he says. "Because of the way I am I have to be careful not to isolate people because maybe they [my family] like people!
"It's easier for me than for my wife. It's hard for them; sometimes I'm miserable, I'm tired, I don't want to go out and want to stay at home and eat a salad. You don't want to go out and eat with friends, you can't drink too much."
Though he's just finished the most successful season of his career, thoughts of retirement have started to creep into Cummings's mind, particularly getting a semblance of a social life back.
Staying in cycling is a must, potentially in a directeur or coaching role. "I think I could make a difference, with a lot of younger riders," he says. "Eventually there's loads of stuff I've got to do.
But it'll wait; I'll do it later. I still have quite a long time to race." The sacrifice his family has made for his career is clearly a driving force in his determination to keep racing, to keep winning. "I just want to try and make more opportunities," he says with a smile.
"I'm an opportunist, a hunter."
And with that he takes his bike off into the open Italian countryside to get his training miles in for the day. Free to ride just as he pleases, while quietly plotting his next race-winning move.
Thank you for reading 20 articles this month* Join now for unlimited access
Enjoy your first month for just £1 / $1 / €1
*Read 5 free articles per month without a subscription
Join now for unlimited access
Try first month for just £1 / $1 / €1