'This has to stop!' - Riders slam drafting behind motorbikes in races
Riders take to Twitter to criticise motorbikes in three races this week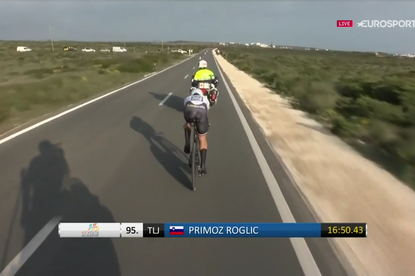 With the Tour of Oman, Ruta del Sol, and the Volta ao Algarve all taking place this week there's lots for cycling fans to enjoy, but all three races have seen pros take to Twitter to complain about motorbike outriders allowing riders to draft behind them.
The latest complaint came from André Greipel, who complained to the UCI about a motorbike rider letting Primoz Roglic draft behind him in Friday's Volta ao Algarve time trial.
Roglic finished third in the time trial and moved into the overall lead with his performance on the day.
Dan Martin, the man who preceded Roglic as the race leader in Algarve, was one of the other pros to complain about drafting, this time at the Tour of Oman where the Irishman spotted a motorbike giving a tow to the breakaway duo of Mark Christian and Preben Van Hecke.
To complete the set of this week's races, Tosh Van der Sande spotted a similar incident at the Ruta del Sol where a Trek-Segafredo rider was taking full advantage of a motorbike riding too close to the peloton
The complaints come just over a week after the UCI introduced new rules designed at regulating race motorbikes to improve the safety for riders.
According to the new regulations, camera motorcycles should film "from 3/4 in front of the riders [i.e. not directly in front of the riders] and not remain permanently in front of the peloton".
In a time trial there should be "around 100m/150m" gap between the motorbike in front of the rider, and the rider themself.
Thank you for reading 20 articles this month* Join now for unlimited access
Enjoy your first month for just £1 / $1 / €1
*Read 5 free articles per month without a subscription
Join now for unlimited access
Try first month for just £1 / $1 / €1