Three riders to target Hour Record attempts this summer
Bradley Wiggins's and Evelyn Stevens's marks challenged at altitude in Mexico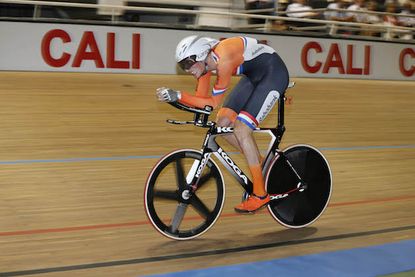 (Image credit: Yuzuru Sunada)
Three riders will launch assaults on the Hour Record this summer, with both Bradley Wiggins's men's record and Evelyn Stevens's women's record being challenged at altitude in Aguascalientes, Mexico.
Wiggins set the men's Hour Record with a mark of 54.526km in London in June 2015 having gone more than 1.5km than Alex Dowsett had managed at the National Velodrome in Manchester a month earlier.
>>> The Hour Record: An interactive timeline
Wiggins's record has stood up to eight challenged over the past three years, and the first rider to take on the record this summer, Danish rider Mads Toft Madsen, having already made two unsuccessful attempts.
Madsen's first attempt in January 2017 saw him ride 52.114km, but this mark was struck off and the rider reprimanded - although not banned - after testing positive for DMBA which Madsen blamed on a dietary supplement.
He then made another Hour Record attempt in January 2018, this time riding 52.324 to narrowly take the Danish national record but fall well short of Wiggins's mark. Madsen's latest attempt will take place on July 26.
Dutch rider Dion Beukeboom will be the second rider to travel to the Aguascalientes velodrome to take on the record. Beukeboom recently took fourth place in his national time trial championship, and has previously said that he thinks that Wiggins's record is beatable as his attempt was made at sea level and in a velodrome with high air pressure.
>>> Alex Dowsett sets out his 'dream' of breaking Chris Boardman's 'Superman' Hour Record
The final Hour Record attempt will come from Vittoria Bussi who will be chasing Evelyn Stevens's record of 47.980km from February 2016.
The Italian rider, who also also run for her country at the World Athletics Championships has also had a previous attempt at the record as she rode 47.576km - just 400m or less than two laps short of the record - at the same high-altitude velodrome in October 2017.
Thank you for reading 20 articles this month* Join now for unlimited access
Enjoy your first month for just £1 / $1 / €1
*Read 5 free articles per month without a subscription
Join now for unlimited access
Try first month for just £1 / $1 / €1