Dr Hutch previews the stage 18 Tour de France time trial
Bernard Hinault may have mellowed, but his hill is still an utter bastard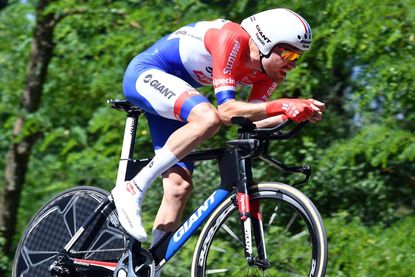 (Image credit: Watson)
Get The Leadout Newsletter
The latest race content, interviews, features, reviews and expert buying guides, direct to your inbox!
Thank you for signing up to The Pick. You will receive a verification email shortly.
There was a problem. Please refresh the page and try again.
Predicting race winners is a dark art. Sometimes it's a hunch. Sometimes it's a nugget of inside information. Sometimes you just discover that someone has just written "FROOME!!" on the road every ten metres for a kilometre and you think, "Yeah. Fair enough."
The 17km individual test between Sallanches and Megève requires a rider with the technical and pacing ability of a time triallist, combined with the physiology of a climber... and if that's not Chris Froome I don't know who is. He'll love it.
I, on the other hand, had rather mixed feelings. I rode the course the morning after tackling the monster mountains of stage 17 to Finhaut-Emosson. That had been over 2,000m of grinding uphill on a gear that had been chosen for Cambridgeshire and unthinkingly brought to the Alps, so I was feeling a little sore. I didn't have to walk backwards downstairs to breakfast, but only because there was a lift.
The first 4km were flat and boring. They're there to tempt you into a nice fast rhythm. You turn right, then left, and it suddenly steepens to over 10 per cent. My creaky legs really didn't appreciate the change. This hill is the reason the stage is here in the first place – it's to honour Bernard Hinault, who retires from the Tour's organisation this year, and who won the notoriously tough 1980 World Championships on this climb. Hinault has mellowed to a twinking elder statesman on the Tour. His hill, on the other hand, is still a real tough bastard.
Up through the orchards and timberyards it went. The woods stopped it from being boiling hot, which was a blessing. The campers on the verges were just clearing up their breakfast and settling in for another day of waiting beside a road for a race to come by. I ground my way past them. I got a couple of cheers, but I put that down to them not having very much else to do.
>>> Chris Froome: 'I'm getting used to the yellow jersey'
It was a hard climb, but at 2km, not exactly an Alpine epic. It would be simpler if it was. Instead of letting you settle into a real climbing rhythm, it levels out to something more moderate. Critically, it's now fast enough that aerodynamics comes back in to the time trial picture.
Watch: Tom Dumoulin and Chris Froome smash the first individual time trial
I just flannelled along the way I'd been going, but to race it you'd need to get into a good riding position, and that means picking the right bike set-up. My guess is that most of the riders will use a road bike with tribars on it and deep-rim wheels, because no one will want a bike that's over minimum weight.
That's especially the case in view of the route's special surprise. Just after 11km, when I turned off the main road onto a back-road loop that makes up the distance into Megève, I found the road went up an entirely unadvertised cliff. Whoever prepares the route profiles clearly relishes the chance to spring the occasional surprise, because while the profile says this bit is 8 per cent, it was actually something like 17 per cent.
It wasn't a long ramp, but it was a shock to the system. It could have been no better calculated to be the kick in the teeth you didn't want if you'd pushed a bit too hard on Mount Hinault, failed to recover on the less steep section, and arrived at 11km already deep in contemplation of your imminent arrival in the afterlife.
>>> Movistar perplexed as Nairo Quintana struggles again
After the hills, the final 2km was straight down the hill into town. It's not long enough to justify a bike change, if that's what you're thinking. The gain might be 10-15 seconds, but that's a break even at best. The finish arrived almost before I'd recovered from the climb.
It's a nice stage. It's harder than it looks, which is exactly how you want these things. And it's a nice tribute to Hinault. He'd have loved it too.
Thank you for reading 20 articles this month* Join now for unlimited access
Enjoy your first month for just £1 / $1 / €1
*Read 5 free articles per month without a subscription
Join now for unlimited access
Try first month for just £1 / $1 / €1
Get The Leadout Newsletter
The latest race content, interviews, features, reviews and expert buying guides, direct to your inbox!
Michael Hutchinson is a writer, journalist and former professional cyclist. As a rider he won multiple national titles in both Britain and Ireland and competed at the World Championships and the Commonwealth Games. He was a three-time Brompton folding-bike World Champion, and once hit 73 mph riding down a hill in Wales. His Dr Hutch columns appears in every issue of Cycling Weekly magazine