Andy and Frank Schleck's future uncertain at Trek
Trek Factory Racing rumoured to be looking for new general classification contender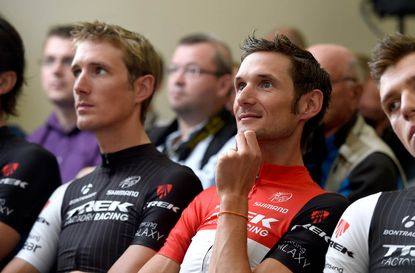 (Image credit: Graham Watson)
The Schleck brothers' future remains a mystery as team Trek appear to be looking for new general classification captains. The team began around Luxembourg's Andy and Fränk, but with the rumoured signing of Bauke Mollema, their places appear in doubt.
"We have a contract for this year," Fränk Schleck said this morning at the Tour de France. "My first thought is about having a good Tour, that's what I'm focusing on now.
"I live the present. I want to ride for the present, I have a contact today, and that's what I want to focus on."
Fränk Schleck, 34, returned from a doping ban last year and only restarted racing this season. Though once third overall, he began the 2014 Tour thinking about stage wins and not the classification. He placed 16th in the stage to La Planche des Belles Filles.
Andy Schleck, 29, inherited the 2010 Tour title after Alberto Contador was stripped of it, but began this year's race simply to rebuild himself. He has been struggling since he crashed and fractured his sacrum in the 2012 Critérium du Dauphiné. Falling on his knee, and subsequently abandoning in stage four, will not help his comeback.
"Of course, it's going to be hard for him. It's going to be tough," said Fränk, who talks to his brother daily. "His knee is OK, it's good, but he has to be patient and see how fast recover."
Andy Schleck underwent surgery for 2.5 hours to correct his right knee. "Besides the ligaments and the meniscus," said Team Doctor Andreas Gösele, "we can also confirm that the cartilage behind the knee cap is damaged, which is the worst and most painful part of Andy's injury."
It appears that Andy and Fränk may have to leave the team they helped begin in 2011. They are both off their best and Trek is looking elsewhere for leaders, like Mollema who sits eighth overall in the Tour.
"It's so difficult now with WorldTour points," said their dad, Johny Schleck. "It's not so good. Andy hasn't raced, Fränk has had one problem after another.
"I don't think they'll go to a second division team. If they had to do that, then I think that it'd be better that they stop. It'd be too long a road back to a first division team if they did that."
Johny Schleck explained that both brothers want to continue through the 2016 Rio Olympic Games, Andy perhaps longer. Trek may try to keep Fränk instead of both brothers but that could be a problem as they have said before that they would never race on separate teams.
The doubt only highlights that they no longer hold the same importance in the team and that weight is shifting towards new talents like Mollema for 2015
Trek Factory Rider Andy Schleck suffering with knee injury after stage three crash, and quits Tour de France
Thank you for reading 20 articles this month* Join now for unlimited access
Enjoy your first month for just £1 / $1 / €1
*Read 5 free articles per month without a subscription
Join now for unlimited access
Try first month for just £1 / $1 / €1