Chris Froome working on long-haul strategy towards 2015 Tour de France
Chris Froome's pre-season preparations for 2015 continued with a trip to Australia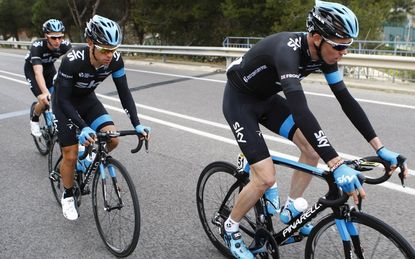 (Image credit: Watson)
Chris Froome began his build-up to an assault on the 2015 Tour de France with an informal two-week training camp with Sky team-mate Richie Porte in Tasmania.
29-year-old Froome confirmed recently that the Tour will be his number-one priority next season, having previously suggested he would focus on the Giro d'Italia and Vuelta a España.
He arrived on Tasmania at the beginning of December and began training for next season in and around Porte's hometown of Launceston following a programme set out by Team Sky's head of performance Tim Kerrison.
"He [Kerrison] has helped us put together a training camp for the next two weeks, just doing what we need to get into shape before the season starts over in Europe," Froome told Cycling Weekly ahead of the trip.
"I've got a long way to go. I've got at least four or five kilos to lose before the Tour next year. I've got to get back to about 66-67 kilos. That's perfectly normal after a month off."
Froome, who usually migrates to South Africa in the winter, is contemplating making Australia a regular pre-season destination. He raced in the annual Stan Siejka Launceston Classic criterium on December 7 although he took no risks in the rain-soaked elite men's event that Neil van der Ploeg (Avanti Racing) won ahead of new NFTO signing Steele von Hoff and Bernard Sulzberger (Drapac).
Team Sky's 2013 Tour de France winner Chris Froome says that the race will be his priority for the 2015
Froome, who got married in November, was without his wife Michelle for the duration of his trip, and has had to recover from jet-lag after an 11-hour journey from South Africa. Although he missed a Sky training camp in Majorca the previous week, he maintained that the trip was worthwhile.
>>> Spotted: Sky test new Rapha training kit
"It's a long way for me to come but training over in Europe at the moment really is hit-and-miss with the weather," he said.
"I'm enjoying it. It's a lot colder and wetter here than I imagined, but hopefully this isn't normal. The roads are undulating and there aren't many cars out, so it suits us. It's relatively low-key over here."
Froome is set to resume training with Sky at a training camp in Spain next month before opening his season at February's Ruta del Sol, opting against staying in Australia and competing at the Tour Down Under (January 17-25) or defending his title at the Tour of Oman (February 17-22).
"[The Tour Down Under] has not got the long, drawn-out, 200-250km stages that will be better for this time of year," he said. "It makes sense to give [it] a miss and start racing in February."
Chris Froome: Training Tour de Tassie
https://www.youtube.com/watch?v=iJlhAJo86Vs&feature=youtu.be
The original version of this article appeared in the December 11 issue of Cycling Weekly magazine
Thank you for reading 20 articles this month* Join now for unlimited access
Enjoy your first month for just £1 / $1 / €1
*Read 5 free articles per month without a subscription
Join now for unlimited access
Try first month for just £1 / $1 / €1