Frank Schleck's Tour B sample also positive for banned substance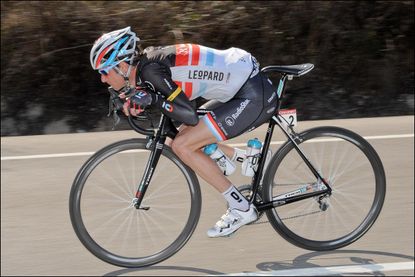 A second sample of Frank Schleck's urine taken on Saturday July 14 during the 2012 Tour de France has also tested positive for a banned substance, both the Luxembourg rider and UCI confirmed on Friday.
The Union Cycliste Internationale (UCI) announced on Tuesday that the World Anti-Doping Agency accredited Châtenay-Malabry laboratory had detected banned diruetic xipamide in Schleck's A sample. Schleck then took up his right to have the B sample tested, and this has also returned a positive for xipamide, according to the UCI.
"The analysis of the sample B of Frank Schleck's urine carried out today has confirmed the result of the adverse analytical finding notified by the Anti-doping laboratory of Châtenay-Malabry following the analysis of the sample A," said a UCI statement.
The UCI has requested that the Luxembourg cycling federation opens disciplinary procedures against Schleck, and he could face a suspension from competition.
Schleck maintains his innocence and cannot explain the presence of the non-naturally occurring substance in his sample.
"Today I witnessed the analysis of the B-sample. The result of the counter test was positive but for me nothing changes: I just know that I did nothing wrong," the RadioShack-Nissan rider said.
Schleck has said that he is looking into everything that he ate, drunk and came into contact with in the days leading up to July 14 to try and ascertain the origin of the substance in his urine sample.
Schleck was withdrawn from the Tour de France by RadioShack-Nissan. The team has already said that xipamide is "not a product that is present in any of the medicine that the team uses and the reason for the presence of xipamide in the urine sample of Mr Schleck is unclear to the team."
Schleck was 12th in the overall classification of the Tour after stage 15, nine minutes and 45 seconds behind leader Bradley Wiggins (Sky). RadioShack-Nissan are leading the team classification.
Schleck was third overall in the 2011 Tour de France, one place behind brother Andy. He has previously won the Tour de Suisse, Criterium International and Tour of Luxembourg.
Schleck was suspended by the CSC team in 2008 after it was discovered that he had made a payment to Dr Eufemiamo Fuentes, the Spanish doctor at the centre of the Operacion Puerto doping investigation. He was later cleared of any wrong-doing by the Luxembourg Anti-Doping Agency.
Schleck went into the Tour de France having competed in the Giro d'Italia in May. On Sunday, he admitted that this year's Tour route didn't really suit him due to the amount of time trials.
Related links
Frank Schleck positive for banned substance at Tour de France
Thank you for reading 20 articles this month* Join now for unlimited access
Enjoy your first month for just £1 / $1 / €1
*Read 5 free articles per month without a subscription
Join now for unlimited access
Try first month for just £1 / $1 / €1