Lance Armstrong: 'If Chris Froome races the Tour, it'll be a nightmare for him'
Armstrong criticises media coverage of salbutamol case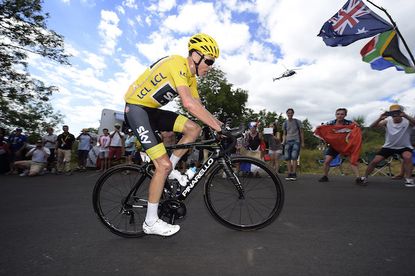 (Image credit: Yuzuru Sunada)
Chris Froome will face a "nightmare" situation if he rides the Tour de France in 2018 after his and Team Sky's problems over the last year, according to Lance Armstrong.
Armstrong won the Tour de France seven times, titles that were stripped when authorities showed he doped for most of his career. In his podcast series, he spoke about Froome's recent high-level reading case involving asthma drug salbutamol.
"He should be allowed due process to explain what happened here and he could be completely exonerated, but he is tarnished forever. Damage is done," said Armstrong.
"This investigation could go on for months. Come next July, riding around France... It is already unpleasant for him. This is going to it's going to be complete mayhem. It's a nightmare."
>>> Everything you need to know about Chris Froome's salbutamol case
Fans at past editions of the Tour de France have already attacked Team Sky riders, with one even throwing urine over Froome at the 2015 edition of the race.
In the last year, Sky have faced a number of controversies, such as the contents of a mysterious Jiffy bad delivered to the team at the Critérium du Dauphiné in 2011, with UK Anti-Doping unable to ascertain what was in the package.
Froome, who denies any wrongdoing, delivered an adverse analytical finding after his urine was found to contain 2000 nanograms of salbutamol per millilitre (ng/ml) - twice the permitted limit - after the 18th stage of the Vuelta a España, which he eventually won.
Watch: Tour de France 2018 route guide
He and the team were informed after the Vuelta on September 20. Since, they have been trying work with the UCI anti-doping programme to explain the high reading and prove that it was not due to Froome exceeding the maximum permitted dosage for the asthma medication. News of the adverse finding leaked out via Le Monde and Guardian articles last Wednesday.
"I don't know why this has been leaked to the media," Armstrong added. "Whoever leaked this had to remain anonymous and this happens a lot in our sport. It's frustrating."
Regardless of why Froome's urine had so much salbutamol or why the case became public, Armstrong echoed Romain Bardet as he said that the image of Froome, Team Sky and cycling will suffer.
>>> Chris Froome should be 'voluntarily suspended' by Team Sky, says anti-doping group
"Cycling is the sporting world's doormat and by the way, I have to take a lot of blame for that," Armstrong explained.
"I am trying to accept some responsibility here because I have tainted the whole equation, obviously, but I read a story in the New York Times that was so harsh on Froome and the sport. You don't get an accurate depiction of this situation by reading that.
"This is so easy for the press to go after cycling and some of the bull**** I have read on this story has been so harsh."
Froome told BBC Sport last week that that his legacy would not be permanently stained from the high salbutamol test.
"I can understand a lot of people's reactions, especially given the history of the sport. This is not a positive test."
Thank you for reading 20 articles this month* Join now for unlimited access
Enjoy your first month for just £1 / $1 / €1
*Read 5 free articles per month without a subscription
Join now for unlimited access
Try first month for just £1 / $1 / €1