Michael Albasini and Kevin Reza racism dispute a 'misunderstanding'
Michael Albasini says that he did not make a racist remark to Kevin Reza during stage 16 of the Tour de France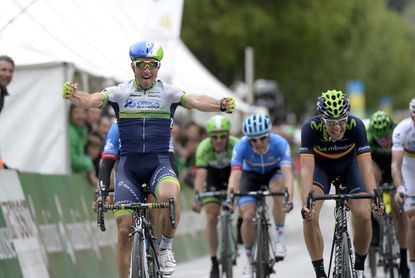 (Image credit: watson)
A "misunderstanding" in the heat of Tuesday's Tour de France stage to Bagnères-de-Luchon led to a racist row, says Michael Albasini (Orica-GreenEdge). The Swiss rider reportedly called Frenchman Kévin Reza (Europcar) a "dirty negro" as they fought to establish an escape.
"It was frustrating going full gas with one guy sitting on behind," Albasini said. "I wasn't happy and I was angry. I said to him some words that maybe I shouldn't have, but none of them were racist."
Team Europcar's general manager, Jean-René Bernaudeau said that Reza was upset when he came to the finish and that his rider was called a "dirty negro" during the stage.
"Everyone was going full-gas, a strong headwind, it's loud – he misunderstood me," Albasini continued. "That's what happened. He came up and asked what I said and I said it again. I didn't choose nice words, but that's how it is when you are on your limit."
Albasini explained that he would not repeat to the media what he said to Reza.
"You know there are many languages spoken in the bunch. I don't speak English perfectly, I speak a little bit of French, not perfectly. He doesn't speak my languages. That can happen, a misunderstanding."
Race organiser ASO spoke to Reza this morning to hear his side of the story. The two teams spoke and agreed to bring the cyclists together at Europcar's hotel in Vielha, Spain, just over the boarder from Wednesday's start.
"I apologised this morning, we had a handshake. I hope for me and for him, this story is gone," Albasini said.
"I'm happy that I saw him this morning to say my version and I apologised for the misunderstanding. I hope that he understood that there wasn't anything racist, I was just angry with the situation."
At the hot start in Saint-Gaudens, Reza would not speak to the press and Bernaudeau refused to elaborate on what he told the press yesterday.
"Before you ask a question, the case is closed," Bernaudeau said to journalist waiting at the bus. "They met, they have had an explanation. Case is closed
"I can't stand racism. The case is closed. I was a strategic problem. Kévin had no authorization to pull in the breakaway, they talked and said things they shouldn't. The case is totally closed."
Orica's general manager, Shayne Bannan said that if such racism existed in his team he would take it "seriously."
"We term it as putting the sport, or the team into disrepute," Bannan explained. "So putting it at that level, if in fact there was that type of scenario, then we would seriously look at it."
Alleged incident occurred when Michael Albasini and Kevin Reza were in the escape group during stage 16 of the 2014
Thank you for reading 20 articles this month* Join now for unlimited access
Enjoy your first month for just £1 / $1 / €1
*Read 5 free articles per month without a subscription
Join now for unlimited access
Try first month for just £1 / $1 / €1