Paris-Roubaix cobbles 'too dangerous' to be included in Tour de France, says Movistar boss
But Eusebio Unzué still thinks route suits Quintana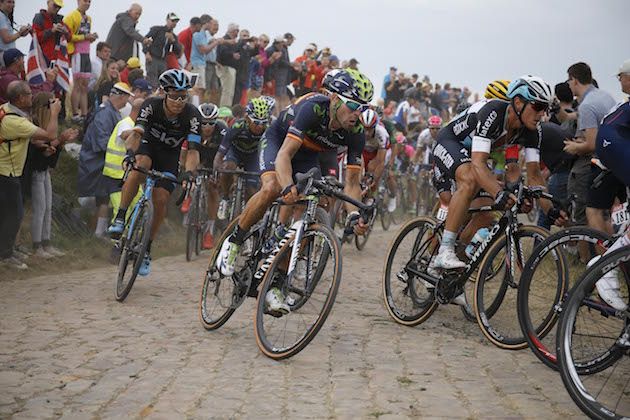 (Image credit: Yuzuru Sunada)
The Paris-Roubaix cobbles are "dangerous" and should not be included in the Tour de France 2018 route, according to the head of the Movistar team.
Speaking after the announcement of next year's Tour de France route, which includes nearly 22km of cobbles on stage nine, Eusebio Unzué criticised the race organiser's decision to include cobbled roads for the first time since 2015.
>>> Watch: Footage gives a glimpse of the mountain-top gravel road that riders will face at 2018 Tour de France
"What I don't understand is [the decision to include] the pavé. It's too dangerous," the Movistar team manager Eusebio Unzué told L'Equipe.
"Cycling is already a risky sport, and on the pavé those risks are multiplied... the pavé should be for Paris-Roubaix and that's it."
The cobbles were last included in the Tour in 2015, with stage four of that year's race seeing no abandons on the road to Cambrai. However in 2014 the riders tackled the cobbles in more inclement weather, such that race organisers had to bypass seven water-logged sectors.
That day also saw a number of riders involved in crashes, with defending champion Chris Froome abandoning, albeit after a crash which took place before the race had reached the cobbles.
>>> 'It's a great route for us': Chris Froome and Team Sky DS hopedful of 2018 Tour de France chances
However, despite criticising the decision to include cobbles in the Tour route for 2018, Unzué went on to say that he didn't think that the pavé would disadvantage star rider Nairo Quintana, with the route in general being advantageous for a climber such as the Colombian.
"I think it's a good Tour for Nairo Quintana," Unzué continued. "With all the difficulties [of the route] it will be a great climber who will be rewarded in July.
"[The cobbles] do not necessarily disadvantage Nairo. In 2015 he did well [finishing 23rd on the cobbled stage and not losing time]."