Peta Todd: The Big Interview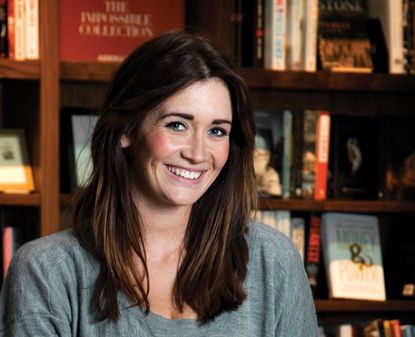 Love seems to be the latest trend in the peloton. Johan Van Summeren proposed to his girlfriend after winning Paris-Roubaix in April, before Liquigas domestique Valerio Agnoli got down on one knee on Italian TV after the sixth stage of the Giro.
It may be a bit too soon for Peta Todd to be seen sporting a big ring, but seven months since she and Mark Cavendish started dating, things seem to be going brilliantly for one of the peloton's most recognisable couples.
In light of recent events in Italy, perhaps the need for solace and companionship is justified and needed more than ever.
We meet just three days after Wouter Weylandt's tragic accident, and I begin by asking her how she would have reacted if it was Cav who crashed badly.
"You can't comprehend it. You can't do anything. You play out a million scenarios in your head. But ultimately, you can't live your life like that," she says bluntly.
"You know it can happen and you have to choose not to think about it."
In case you don't know, Todd is a Page 3 model. From Essex. But old prejudices paint an inaccurate picture. A self-confessed geek, she is not only funny but also undeniably intelligent. Within the space of a few months, she's become extremely knowledgeable about cycling. Before we've even sat down, we're discussing the route of that day's racing in Italy.
Like everyone, Weylandt's death affected her greatly, and we're soon talking about it again. She recalls her exchange with the Manxman on the evening of that fateful day. Yes, she supported him, but they tried not to dwell on things too much.
"It's kind of what wasn't said in our conversation that stands out," she says. "I can't imagine what it would have been like at the race, so I didn't want to put more on his mind than he had already. I just told him to be careful. What more can you say?"
Crash course
Todd knew almost immediately what it was like having to deal with a bruised and battered cyclist, as Cavendish hit the deck on a handful of occasions during January's Tour Down Under.
"I was still learning the sport at the start of the year," she admits, "and although Mark just kept on saying, 'It happens,' I always wanted to tell him, 'Well, don't let it!'"
Cav's time competing in Australia was also an indication of how difficult it is for couples to keep their relationships strong.
"It's easier when he's in Europe because the time difference is minimal. But when he was in the States on training camp, and Australia racing, my body clock went out the window.
"Because there's only two occasions during the day you can speak to him - before and after the race - I'd be staying up to 2am just to chat to him."
Despite the late nights and all the time apart, Todd has adopted a positive approach to things, as she adds: "Yes, there's a lot of goodbyes, but then there's also a lot of hellos and you always look forward to seeing each other again."
Grand memories
Having been out to the Classics, she got her first taste of a Grand Tour during the Giro, and it's a memory that will stick with her for a long time.
"I loved the Giro, but it's mental," Todd says, before laughing. "Luckily the staff really looked after me."
"Everyone wants a piece of him when he's there, so we developed a little signal where I'd see a little finger pointing at me through the bus window.
"That was my cue to get on it and give him a hug, but that was also when everyone starts going mad!"
Todd is planning to go and watch the Tour, yet seeing as she describes it as "the Giro times a thousand", she clearly knows exactly how big the race is.
"From people I've spoken to - other riders' wives, and friends, for example - the Tour is even more crazy.
"I'll go over and watch him race but the chances are I won't see him as much and I won't get such good access."
The pair met last year in Los Angeles at an event for Help for Heroes, a charity close to Todd's heart.
She was initially surprised by his accent, expecting him to be American.
Stage presence
"He told me he was a cyclist, but I never really thought about it. Then he went up on the stage and I thought to myself, 'Who is that?' That's when everyone told me who he was."
Not knowing who each other was, they looked each other up online shortly afterwards.
"It's a strange situation to be in, when you can Google one another," Todd jokes.
"You can find out about anything online - ex-girlfriends, what they've said, when they've lost their temper. I think he got more from the web, in the sense that I'm a Page 3 girl."
While researching for the interview, I did what Cav did and looked her up. Unsurprisingly, there's more than the modelling to be found out about on the internet. She's also mother to a five-year-old boy, Finnbar.
And there's a sponsorship page for her Help for Heroes fundraising efforts, which have already seen her climb Kilimanjaro, run the London Marathon and jump out of a plane. Her next challenge is a 1,000-mile bike ride starting later this year.
Not so fast
Because of her relationship with Cavendish, everyone believes the bike ride will be easy for her. She couldn't disagree more.
"I look terrible on a bike, and they're not really my friend," Todd declares, as she recalls how she fell off during a 300-mile ride for the charity three years back.
"People seem to forget that's it's Mark who rides the bike for a living, and not me!"
Because of Todd's association with the Sun, I ask her about the chances of Cavendish joining Team Sky, therefore making them the News Corporation couple. She laughs.
"I don't think they can put 'because your girlfriend does Page 3' on a contract. Seriously, though, who knows? There are a lot of teams who would love to sign him."
Her final comment is an understatement. The majority of the WorldTour teams would love to sign Cavendish for 2012, and noticeably, we've returned to that four-letter word, love, once again.
Related links
Mark Cavendish: Rider Profile
Tour de France 2011: Cycling Weekly's coverage index
Thank you for reading 20 articles this month* Join now for unlimited access
Enjoy your first month for just £1 / $1 / €1
*Read 5 free articles per month without a subscription
Join now for unlimited access
Try first month for just £1 / $1 / €1