Peter Sagan takes aim at sixth Tour de France green jersey
Sagan aims to bounce back from 2017 disqualification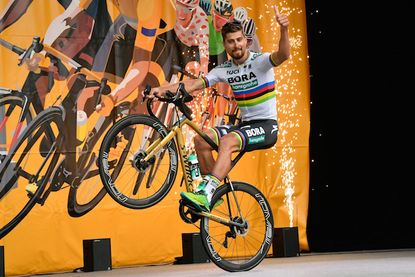 (Image credit: ASO/Bruno Bade)
Peter Sagan (Bora-Hansgrohe) will take aim at a record-equalling sixth green jersey in the 2018 Tour de France starting on Saturday in Vendée.
Sagan returns to the race after last year the jury disqualified him after a sprint run-in with Mark Cavendish on stage four. It ended his chance at a sixth consecutive green jersey, but that points classification top remains his goal in 2018.
"I'm happy to be back here and for sure, it's a big race for everyone, us riders," Sagan said. "I'm happy to be here and represent the team Bora-Hansgrohe. We'll see [about the sixth jersey]. Will it be the sixth in a row or just a sixth one?!"
>>> 'It's really the only target I have left': Cavendish taking aim at yellow and Merckx's stage record
German Erik Zabel won six green jerseys. The 28-old Slovak would have a chance to equal Zabel and add more stage wins to his palmarès in doing so.
He has a chance to put 2017 behind him, too. Last year, the jury disqualified him and later the Court of Arbitration for Sport (CAS) ruled Sagan's move was unintentional.
"The story of last year is already passed, we talked about it a lot," Sagan continued. "Every sprint is different, you can't be careful enough for something... Still I know what happened last year, if it's the same sprint this year, I think I would do it again the same because it wasn't my fault.
"I don't think how careful I need to be in the sprints, it just happened. Also this year, I'll have to be in the front, and you never know what will happen."
Watch: Tour de France 2018 preview
Cavendish went home the same day with a fractured shoulder blade. He says that he is still feeling it, not being able to put full weight on his arms when he is on his bike.
"The relationship with Mark? For sure, it's very good from my side," Sagan explained.
Asked for clarification on "my side" he said, "I have nothing to say. Speaking? A little bit in the Tour of California, yeah. Yeah, everything's OK."
>>> Nine Tour de France riders that you should follow on Strava
Since the incident the UCI has introduced video referees to control the sprints better and help the jury spot irregular sprinting.
Sagan returns to the 2018 Tour de France one year older. He now has another big win, the 2018 Paris-Roubaix, under his belt. Around his neck, he wore a massive solid gold linked chain with a diamond studded gold cross about eight centimetres tall. "It's pure gold," he remarked while showing it.
"I'm older, what changes? Every day something changes in your life," Sagan continued. "I'm a father now, but I don't think [it changes much] because I am living in the moment. Maybe that is also my problem. I'm enjoying that!"
Thank you for reading 20 articles this month* Join now for unlimited access
Enjoy your first month for just £1 / $1 / €1
*Read 5 free articles per month without a subscription
Join now for unlimited access
Try first month for just £1 / $1 / €1