Quintana and Valverde to ride together at Tour and Vuelta
The two Movistar heavyweights are set to combine forces for two Grand Tours in 2015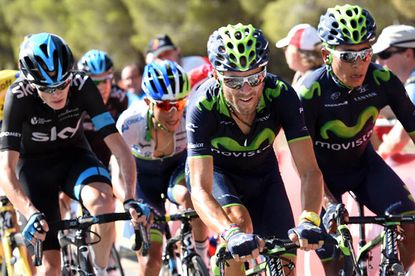 Nairo Quintana will not defend his 2014 Giro d'Italia title, as he will ride the Tour de France and the Vuelta a España in 2015 alongside Alejandro Valverde, Movistar general manager Eusebio Unzue announced on Friday.
"The directors, doctors and trainers have valued that all together the team improves a lot, apart weakens us, but gives us the ability to cover more targets," Unzue said.
"And they [Quintana and Valverde] also agreed and considered it important to go together because they share responsibility. And, although sometimes they can fight for common goals, if everyone is ready to support, you [the team] are better.
"So this has led us to believe it is the right thing to do together the two grand tours that we initially thought, being both the Tour de France and the Vuelta."
Valverde led the team outright at the Tour in 2014, while he assumed leadership at the Vuelta after Quintana crashed out, which was the first time the two had ridden a Grand Tour together since the 2013 Tour.
23-year-old Quintana has already outdone his 34-year-old teammate at the Tour, finishing second behind Chris Froome in 2013, while Valverde has failed to make the podium in any of his seven rides at the race.
But the Spaniard is happy to concede overall leadership to Quintana, preferring to focus on the stages that suit him at next year's Tour, including the Ardennes Classics like finishes on the Mûr de Bretagne and the Mur de Huy. Valverde also dismissed any Wiggins-Froome style feud emerging between the two riders.
"We are not Wiggins and Froome," said Valverde. "The the Tour will all be 100% for Nairo, who is more likely to win than me."
Quintana was also happy with the setup going into the new season, despite the fact he wouldn't be back to defend the Giro title he so convincingly took earlier this year.
"Together we will be stronger," Quintana explained. "Even before Unzue told us his thoughts, Alejandro and I wanted to do this anyway."
Because the Spanish squad's usual race leaders will be heading to Tour and Vuelta, the team will field a squad at the Giro which will allow the likes of Beñat Intxausti, Jesus Herrada or Ion Izaguirre to go for stage wins, while also providing for experience for riders like Dayer Quintana, Nairo's younger brother.
"This allows us to get young riders who are progressing can ride a grand tour with a certain freedom and feeling more like leaders," Unzue said about the Giro squad, "and in the short and medium term they are training and are able to progress."
More racing stories
Thank you for reading 5 articles this month* Join now for unlimited access
Enjoy your first month for just £1 / $1 / €1
*Read 5 free articles per month without a subscription
Join now for unlimited access
Try first month for just £1 / $1 / €1