Tour de France to air on German public television for first time in four years
German public broadcaster ARD will show live coverage of the Tour, but will cut the race again should more doping cases surface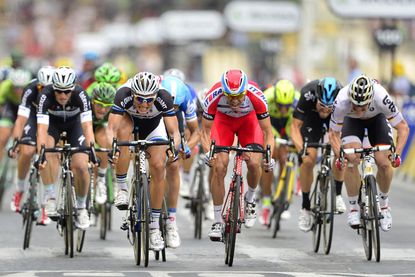 (Image credit: Watson)
German television channel ARD, is set to announce that it will show the Tour de France for the at least the next two years according to Der Spiegel, making it the first time cycling's biggest race will appear on German public TV since 2011.
The Tour was initially dropped from free-to-air broadcast due to dwindling ratings and a flurry of doping controversies involving top German riders, but now ARD is said to have acquired the rights to the race for less than five million euros.
The channel has however, reportedly tied a clause into its contract that allows for the broadcast to be cut should more doping cases arise.
German cycling has enjoyed rejuvinated success in recent times with a number of riders, including Tony Martin, John Degenkold, Marcel Kittel and André Greipel all recording top level results, as well as the first three of those riders all visibly supporting by signing the draft of a proposed law that would make doping a criminal offence in Germany.
Kittel, who begins his season at the Tour Down Under in January as he builds up to the Tour de France in July, told FAZ.net that cycling will always been as suspicious as long as people associated with doping continue to work in the sport.
"People like [Alexander Vinkourov and Bjarne Riis] contribute to the fact that to this day, cycling is permanently seen as suspicious," Kittel said.
Thank you for reading 5 articles this month* Join now for unlimited access
Enjoy your first month for just £1 / $1 / €1
*Read 5 free articles per month without a subscription
Join now for unlimited access
Try first month for just £1 / $1 / €1