Tour de France 'hooliganism' must stop, says UCI president Brian Cookson
UCI president Brian Cookson urges roadside fans to behave themselves during cycling events, after incidents of riders being spat at and punched during Tour de France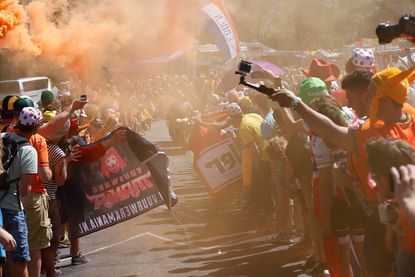 (Image credit: Yuzuru SUNADA)
Union Cycliste Internationale (UCI) president Brian Cookson has condemned the behaviour of some fans during this year's Tour de France, branding their actions as 'hooliganism'.
There were several reported incidents of riders being spat at by spectators, with Tour winner Chris Froome (Team Sky) at one point being dowsed with urine. Sky's Richie Porte also said he was punched by a spectator on stage 10 of the race.
"I am worried about the beginnings of an element of hooliganism coming towards our sport which we have largely been able to avoid in recent years," Cookson told news agency AFP while at the International Olympic Committee meetings in Kuala Lumpur this week.
Many believed the negative actions committed against riders, and in particular those in Team Sky, were as a result of comments made in the French media. Froome was subjected to questions and insinuations that he was doping to achieve his result - which he strenuously denied, and Sky took steps to publish his power data to prove his performances were credible.
>>> Team Sky car hit and heckled by fans as it goes up Alpe d'Huez (video)
Several videos shot during the 2015 Tour show spectators clearly spitting in Froome's face, and the atmosphere on Alpe d'Huez on the final stage turned hostile as one of the Sky team cars was hit, covered in drink and pelted with objects.
"I think Chris was subjected to a fairly nasty form of antagonism from a small number of people," said Cookson.
"But there was also a little bit of slightly joking, slightly hooligan-type behaviour in places with cars being kicked, things being thrown at cars."
Although there is a limit to what race organiser ASO can do to restrict the behaviour of fans, Cookson asked spectators to be respectful to those taking part.
"The Tour, all of cycle racing is a great free sport. It is possible to get close to the athletes, to the competitors, in a way that is not really possible in any other sport. If we want that to continue then we all have a responsibility to behave."
A video published ahead of the 2015 Tour by ASO featured a number of leading riders asking fans to 'respect the Tour', and keep back from riders on crowded roads such as Alpe d'Huez to prevent incidents or injuries to both riders and fans alike.
Video: Best of the 2015 Tour de France
Thank you for reading 20 articles this month* Join now for unlimited access
Enjoy your first month for just £1 / $1 / €1
*Read 5 free articles per month without a subscription
Join now for unlimited access
Try first month for just £1 / $1 / €1