'It's like riding a Classic every day': Tour de France debutants reflect on their first Grand Tour
Three men making their first appearance at the Tour de France give their first impressions on the world's biggest bike race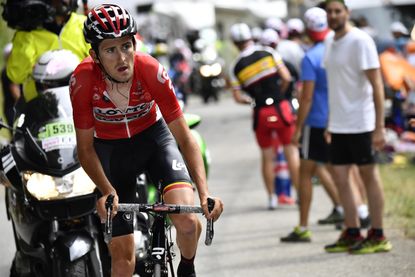 (Image credit: Yuzuru Sunada)
If you're going to become a king of the road, you've got to ride your first Tour de France sometime. A daunting prospect, but with the Vuelta a España or perhaps the Giro d'Italia offering a less stressful and well-trodden path to a first Grand Départ, going in blind isn't a requirement. Sometimes though, it's just what happens.
This July there are a total of 13 riders taking part in what is not only their first Tour de France, but also their first ever Grand Tour.
For most pro bike riders this is the dream ticket; the zenith of everything they have worked for since signing their first contract; the world's biggest annual sporting event and the pinnacle of the sport. Perhaps that is exactly the very reason that experiencing your first Grand Tour here is such a formidable challenge.
Dion Smith of Pro Continental team Wanty-Groupe Gobert, reflects: "It's pretty crazy and hectic — as expected; but they usually say the first week in the peloton is very stressful... and all the media — I think that's gonna be all the three weeks but it should calm down a bit by next week.
>>> Five things to look out for in the 2017 Tour de France's final week
"But first impressions are it's a pretty unreal and crazy experience."
"At the start I was reasonably nervous," adds the 24-year-old Kiwi, "but once you get into the Tour you kind of just get into a routine and just do the job at the end of the day really."
Smith is far from alone in riding his first Tour — in fact, while some have ridden the Vuelta previously, the whole of the Wanty Tour roster are riding their first Grande Boucle.
It's not a situation that Lotto-Soudal's Grand Tour debutant Tiesj Benoot finds himself in. His Tour team includes seasoned pros such as André Greipel, Adam Hansen and Lars Bak, who boast a total of 57 Grand Tour starts between them.
"[We have lots of] riders who have done a lot of Grand Tours already, so yeah, I'm the only one out of them that is new in this kind of racing but it's great," says the 23-year-old Belgian. "They give me a lot of tips and I think I'm doing a good Tour.
"You have a lot more press around, a lot of people on the road. It's really nice, gives a good feeling but also brings a lot more stress and danger — you have to be focused all day. But I like it, I really like it," he adds.
The road to the Tour
Benoot's sports director, Herman Frison, a Belgian ex-pro who himself won a stage of the Tour back in 1987, explains how he framed the race for his young charge.
"From the beginning we told him every day it's like a Classic — it's the Tour of Flanders," he says. "You are riding on the Oude Kwaremont and there are a lot of people but in the Tour it's the whole day. It's from the start to the finish and for him it was a little bit of a surprise. Also you have the helicopters, everything, and after three or four days he told us, 'It's true, it's true!'"
Frison also admits that the Tour de France wouldn't necessarily be his first choice, but sometimes needs must: "The best Tour for a young rider is, for me, the Giro. That for me is the best for the first three years. You can go there but for him that's a little bit of a problem. You see, he does all the [Spring Classic] races in Belgium, but then you must have a little bit of a recovery. So what do we do? Do we take him to the Tour or do we take him to the Tour of Spain? We decided the Tour de France."
>>> Analysis: why is this Tour de France the closest it's been since 1951?
But whichever Grand Tour a young pro goes to first, the end result — so the theory goes — is a stronger rider the following season: "For us, for a young rider, and for the next year, [Benoot] is a little bit better and stronger. It is my opinion and also Marc [Sergeant, Lotto boss] that he'll get stronger, so next year in the Classics I hope he has a little bit more body and is a little bit stronger."
One easily overlooked aspect of Grand Tour riding that young riders may never have experienced before is the sheer volume of food that is required just to survive. Dion Smith for one is not finding the unrelenting all-you-can-eat extravaganza particularly gratifying.
"You almost get sick of eating to be honest," he laments. "It's just non-stop... just keep eating and eating. It's pretty hard for your body to digest that much food and you're still not getting enough in. So, yeah, it's almost a job in itself — reminding yourself to eat and drink."
Watch: Tour de France 2017 preview - what will happen in week three?
Both Smith and Benoot give the same, determined answer when asked whether they plan on completing the entire race: "For sure."
Both say they are planning to make their presence felt by finding their way into a breakaway at some point. "I'm gonna get stuck in and try not to be afraid," Smith explains. "I'll try and get in a break or two, and top 10 on a stage would be good."
As Frison cautions though, making it into a breakaway with the big guns is easier said than done. "It's hard also to get in the break. Now he knows it a little bit," Frison said of his young charge. "He told us yesterday when the good riders went [on the attack], 'I will jump into there'... but," he smiles, "it's just not possible in the Tour. I think he knows it a little bit now.
>>> Who's won the most prize money at the Tour de France so far?
"We give him confidence and everything but I think he has to wait a little bit, a little later in the Tour he can do what he wants to do. He will go in the break, he's young but I think he must wait a little bit and see what happens next week."
Benoot may have learned this "a little bit", but it didn't stop him trying, as evidenced only two days after CW spoke to the pair, when the young Belgian spent the entire day among the front groups on the way to Chambéry via the formidable Mont du Chat.
He eventually came in 12th, 3.32 behind winner Rigoberto Uran (Cannondale-Drapac) and a group of hardcore GC favourites, moved himself well up the GC and will no doubt take confidence from the experience.
Drop the pressure
Benoot's courageous stage nine escapade notwithstanding, there's a way to approach your first Grand Tour, counsels Frison, and one thing it doesn't involve is pressure: "Keep on, look around you and everything, eat, big massage, every day riding... and eventually he can go in the break.
After the Dauphiné everybody said, 'Yeah, he [Benoot] can do the big Tours,' and he's a climber. No no no no no, no pressure. We'll see every day and he can go for a stage win. But when, I don't know. No pressure."
Seeing his first Tour de France — and indeed first Grand Tour — from a different perspective to Benoot and Smith is British Cannondale-Drapac directeur sportif Tom Southam. The 36-year-old Cornish ex-pro joined his old partner in crime Charly Wegelius at the US team after Drapac — with whom he was a DS — and Cannondale joined forces.
It is not Southam and Wegelius's first venture: the pair became infamous for being blackballed from the GB road team after working for the Italians at the 2005 World Championship road race.
"This is my first three-week race — the length is extraordinary," says Southam. But as an already-experienced DS, it's the logistical extras rather than any kind of stage fright that have struck him: "All those extra little things that you have to get right, you know, even just the timing of the stage. You want to get here early enough because there's extra press. You [try to] build in an extra 10 minutes of time in the hotel when you're relaxed."
>>> Cannondale-Drapac 'super-optimistic' of secruing major new sponsor before end of Tour de France
The old 'five Ps' adage — proper preparation prevents poor performance — could never be applied more aptly than to the Tour, Southam says. He did a huge amount of prep work on the race before it started and says it has been vital to keep things running smoothly.
"We try to keep the pressure off ourselves with the work we've done," he says. "If you've done things properly and you've done your homework then you don't have to gap yourself all the time. Which is kind of what this big thing does, because you see five teams leaving the hotel before you leave and you think, 'Oops, s***', and look at your watch. And it weighs on your mind more when you know that the stage is live from start to finish and everybody in the world is watching."
It's hard not to feel a guilty pang, standing in front of these men and brandishing a dictaphone, as one by one they tell you how much stress the media brings to the Tour. But the huge amount of coverage is part of what makes the race what it is, and is only one of a vast number of factors facing teams and riders — especially the new guys — which combine to create that unique Grand Boucle experience.
Tom Southam sums it up perfectly with five words: "The Tour is the Tour."
Thank you for reading 20 articles this month* Join now for unlimited access
Enjoy your first month for just £1 / $1 / €1
*Read 5 free articles per month without a subscription
Join now for unlimited access
Try first month for just £1 / $1 / €1