Tour of Turkey risks cancellation in first year as WorldTour race as teams stay away
Only one WorldTour team has reportedly signed up to the April's Tour of Turkey so far. Organiser is pushing to reschedule for autumn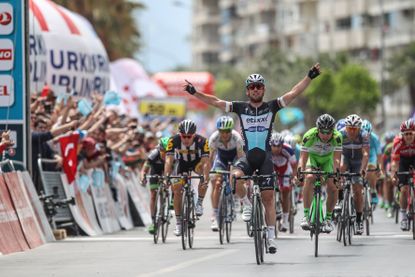 (Image credit: Graham Watson)
The Tour of Turkey is due to make its UCI WorldTour debut in the 2017, but the race now risks cancellation among terror concerns and lack of teams signing up.
The stage race so far has only confirmed one WorldTour team for its race scheduled April 18 to 23.
"We can't have the race in August, but are pushing for October or November," the Turkish cycling federation told Turkey's DHA news agency.
The UCI was not available when called for comment on the 2017 Tour of Turkey. The race began in 2008 and attracted mostly sprinters. Adam Yates won the 2014 edition.
>>> UCI WorldTour: latest news, reports and info
With war in Syria and recent terrorist attacks, plus the widespread 2013 protests and failed 2016 coup, teams appear reluctant to travel to Turkey.
The Tour of Turkey's spot among the 11 new WorldTour races surprised followers when the UCI announced the new expanded calendar in August 2016.
The race organiser visited Luxembourg to meet with the UCI at the recent cyclo-cross worlds. It pushed for the later date.
The UCI would unlikely allow the race to shift to the late-season date and remain in the WorldTour. The Worlds, Il Lombardia and the new Tour of Guangxi in China occupy the late-September through October spots. A November date appears just as impossible.
DHA reported that the Tour of Turkey only counts one WorldTour team for its 2017 start list. Unlike the existing WorldTour events, all 18 WorldTour teams are not required to attend the new ones like the Tour of Turkey, RideLondon and the Tour of California.
The organisers, however, are supposed to attract a minimum of 10 WorldTour teams over its first two years or risk demotion.
>>> 'What's the point in being a WorldTour race?' – RideLondon race director criticises UCI's latest reforms
"I feel sorry for the Tour of Turkey organiser," Prudential RideLondon race director Mick Bennett told Cycling Weekly last month. "They had very few WorldTour teams in 2016 and it will only get even worse for them.
"The costs are quite incredible to be a WorldTour race and the benefits are marginal. It would be more preferable not to award WorldTour status [to some races].
"A lot of the team managers are saying that there is no way they can ride all of the WorldTour calendar and I totally get that."
DHA reported that the Tour of Turkey organiser expected to have a higher number of top teams when it joined and agreed to the higher costs of the WorldTour.
Officials from the UCI and Professional Cycling Council are due to discuss the race in the coming weeks. However with terror fears, no points on offer and an already busy calendar, WorldTeams should gladly pass on the 2017 Tour of Turkey.
Thank you for reading 20 articles this month* Join now for unlimited access
Enjoy your first month for just £1 / $1 / €1
*Read 5 free articles per month without a subscription
Join now for unlimited access
Try first month for just £1 / $1 / €1