UCI releases full calendar for new ProSeries races
The governing body has revamped the lower race division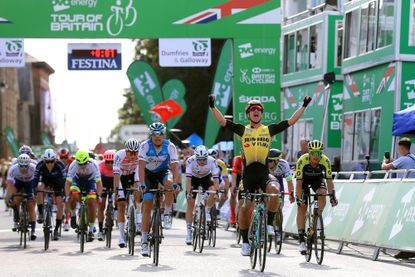 (Image credit: Getty Images)
The UCI has released the full calendar for the new ProSeries races, as the governing body redesigns lower division of professional cycling.
From January 1, 2020, men's professional cycling will operate under a new structure, aimed at "improving the narrative" of the cycling season.
The current HC class of races will disappear and will be replaced by a new collection of races called the UCI ProSeries, which is one level below the WorldTour calendar and above the UCI Continental Circuits.
>>> Velon files anti-competition complaint against the UCI
ProSeries will be composed of the current HC and Class one events, and will be a selection of smaller stage races and one-day events.
Notable inclusions in the ProSeries include the Volta a la Comunitat Valenciana in February, Kuurne-Brussels-Kuurne in March, the Tour de Yorkshire and the Tour of Britain.
Included in the changes for 2020, the UCI also plans to introduce a controversial Classics Series of events, and will be changing Pro Continental teams into newly named UCI ProTeams.
Full UCI ProSeries 2020 calendar
Swipe to scroll horizontally
| | | | | |
| --- | --- | --- | --- | --- |
| 05 Feb-09 Feb 2020 | Volta a la Comunitat Valenciana | ESP | Row 0 - Cell 3 | 2.Pro |
| 11 Feb-16 Feb 2020 | Tour of Oman | OMA | Row 1 - Cell 3 | 2.Pro |
| 13 Feb-16 Feb 2020 | Tour de la Provence | FRA | Row 2 - Cell 3 | 2.Pro |
| 16 Feb 2020 | Clasica de Almeria | ESP | Row 3 - Cell 3 | 1.Pro |
| 16 Feb 2020 | Trofeo Laigueglia | ITA | Row 4 - Cell 3 | 1.Pro |
| 19 Feb-23 Feb 2020 | Volta ao Algarve em Bicicleta | POR | Row 5 - Cell 3 | 2.Pro |
| 19 Feb-23 Feb 2020 | Vuelta a Andalucia Ruta Ciclista Del Sol | ESP | Row 6 - Cell 3 | 2.Pro |
| 29 Feb 2020 | Faun-Ardèche Classic | FRA | Row 7 - Cell 3 | 1.Pro |
| 23 Feb-01 Mar 2020 | Tour of Hainan | CHN | Row 8 - Cell 3 | 2.Pro |
| 01 Mar 2020 | Royal Bernard Drome Classic | FRA | Row 9 - Cell 3 | 1.Pro |
| 01 Mar 2020 | Kuurne-Brussels-Kuurne | BEL | Row 10 - Cell 3 | 1.Pro |
| 08 Mar 2020 | GP Industria & Artigianato | ITA | Row 11 - Cell 3 | 1.Pro |
| 18 Mar 2020 | Danilith Nokere Koerse | BEL | Row 12 - Cell 3 | 1.Pro |
| 19 Mar 2020 | Grand Prix de Denain - Porte du Hainaut | FRA | Row 13 - Cell 3 | 1.Pro |
| 20 Mar 2020 | Bredene Koksijde Classic | BEL | Row 14 - Cell 3 | 1.Pro |
| 15 Mar-22 Mar 2020 | Le Tour de Langkawi (TBC) | MAS | Row 15 - Cell 3 | 2.Pro |
| 04 Apr 2020 | Gran Premio Miguel Indurain | ESP | Row 16 - Cell 3 | 1.Pro |
| 08 Apr 2020 | Scheldeprijs | BEL | Row 17 - Cell 3 | 1.Pro |
| 15 Apr 2020 | De Brabantse Pijl - La Flèche Brabançonne | BEL | Row 18 - Cell 3 | 1.Pro |
| 12 Apr-19 Apr 2020 | Presidential Cycling Tour of Turkey | TUR | Row 19 - Cell 3 | 2.Pro |
| 19 Apr 2020 | Tro-Bro Léon | FRA | Row 20 - Cell 3 | 1.Pro |
| 20 Apr-24 Apr 2020 | Tour of the Alps | ITA | Row 21 - Cell 3 | 2.Pro |
| 30 Apr-03 May 2020 | Tour de Yorkshire | GBR | Row 22 - Cell 3 | 2.Pro |
| 05 May-10 May 2020 | 4 Jours de Dunkerque / Grand Prix des Hauts de France | FRA | Row 23 - Cell 3 | 2.Pro |
| 16 May 2020 | Grand Prix de Plumelec-Morbihan | FRA | Row 24 - Cell 3 | 1.Pro |
| 26 May-31 May 2020 | Tour of Norway | NOR | Row 25 - Cell 3 | 2.Pro |
| 28 May-31 May 2020 | Boucles de la Mayenne | FRA | Row 26 - Cell 3 | 2.Pro |
| 03 Jun-07 Jun 2020 | ZLM Tour | NED | Row 27 - Cell 3 | 2.Pro |
| 10 Jun-14 Jun 2020 | Baloise Belgium Tour | BEL | Row 28 - Cell 3 | 2.Pro |
| 17 Jun 2020 | Dwars door het Hageland | BEL | Row 29 - Cell 3 | 1.Pro |
| 24 Jun-28 Jun 2020 | Tour of Slovenia | SLO | Row 30 - Cell 3 | 2.Pro |
| 27 Jun-03 Jul 2020 | Int. Österreich-Rundfahrt-Tour of Austria | AUT | Row 31 - Cell 3 | 2.Pro |
| 07 Jul-14 Jul 2020 | Tour of Qinghai Lake | CHN | Row 32 - Cell 3 | 2.Pro |
| 18 Jul-22 Jul 2020 | VOO-Tour de Wallonie | BEL | Row 33 - Cell 3 | 2.Pro |
| 28 Jul-01 Aug 2020 | Vuelta a Burgos | ESP | Row 34 - Cell 3 | 2.Pro |
| 03 Aug-09 Aug 2020 | The Larry H.Miller Tour of Utah | USA | Row 35 - Cell 3 | 2.Pro |
| 06 Aug-09 Aug 2020 | Arctic Race of Norway | NOR | Row 36 - Cell 3 | 2.Pro |
| 12 Aug-16 Aug 2020 | PostNord Danmark Rundt - Tour of Denmark | DEN | Row 37 - Cell 3 | 2.Pro |
| 20 Aug-23 Aug 2020 | Deutschland Tour | GER | Row 38 - Cell 3 | 2.Pro |
| 29 Aug 2020 | Brussels Cycling Classic | BEL | Row 39 - Cell 3 | 1.Pro |
| 06 Sep 2020 | Maryland Cycling Classic | USA | Row 40 - Cell 3 | 1.Pro |
| 10 Sep 2020 | Coppa Sabatini - Gran Premio città di Peccioli | ITA | Row 41 - Cell 3 | 1.Pro |
| 06 Sep-13 Sep 2020 | OVO Energy Tour of Britain | GBR | Row 42 - Cell 3 | 2.Pro |
| 13 Sep 2020 | GP de Fourmies / La Voix du Nord | FRA | Row 43 - Cell 3 | 1.Pro |
| 15 Sep 2020 | Grand Prix de Wallonie | BEL | Row 44 - Cell 3 | 1.Pro |
| 15 Sep-19 Sep 2020 | Skoda-Tour de Luxembourg | LUX | Row 45 - Cell 3 | 2.Pro |
| 19 Sep 2020 | Primus Classic | BEL | Row 46 - Cell 3 | 1.Pro |
| 03 Oct 2020 | Sparkassen Münsterland Giro | GER | Row 47 - Cell 3 | 1.Pro |
| 03 Oct 2020 | Giro dell'Emilia | ITA | Row 48 - Cell 3 | 1.Pro |
| 05 Oct 2020 | Coppa Bernocchi - GP BPM | ITA | Row 49 - Cell 3 | 1.Pro |
| 07 Oct 2020 | Milano-Torino | ITA | Row 50 - Cell 3 | 1.Pro |
| 08 Oct 2020 | Gran Piemonte | ITA | Row 51 - Cell 3 | 1.Pro |
| 11 Oct 2020 | Paris - Tours Elite | FRA | Row 52 - Cell 3 | 1.Pro |
| 18 Oct 2020 | Japan Cup Cycle Road Race | JPN | Row 53 - Cell 3 | 1.Pro |
Thank you for reading 5 articles this month* Join now for unlimited access
Enjoy your first month for just £1 / $1 / €1
*Read 5 free articles per month without a subscription
Join now for unlimited access
Try first month for just £1 / $1 / €1