'Very notable riders' reportedly under investigation for using motors in bikes
French investigation looking at "links between international teams, private companies and cycling's highest authorities"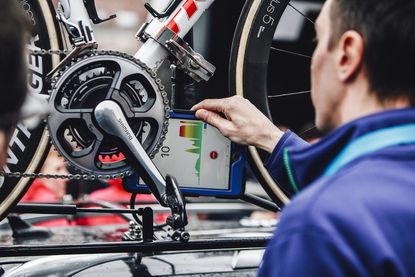 The issue of motor doping is back on the news agenda in France, where satirical newspaper Le Canard Enchaîné is reporting that two prominent investigating magistrates have been looking into an alleged conspiracy involving "very notable riders" to use this banned technology.
According to the paper, following an initial investigation by a public prosecutor with a focus on financial irregularities, investigating magistrates Claire Thépaut and Serge Tournaire were appointed last summer to investigate "links between international teams, private companies and cycling's highest authorities".
>>> Amateur motor doping case: 'It's pathetic. All this to win three sausages and a packet of crisps'
The paper reports that the two magistrates are investigating "a plot put together at the highest level" that has "profited very notable riders… It has permitted them to take advantage of the latest technological advances in the field of electric motors."
Up to now, there have been just two confirmed cases of motor doping. In 2016, Belgian rider Femke Van den Driessche received a six-year ban when a bike fitted with a motor was found in her pit area during the women's under-23 event at the 2016 World Cyclo-Cross Championships.
In October this year, French third-category racer Cyril Fontayne was caught using a bike equipped with a motor during a minor race near Périgueux.
Watch: How the UCI tests for hidden motors
UCI president David Lappartient has pledged to tackle motor doping, and recently appointed 2014 Tour de France runner-up Jean-Christophe Péraud as the organisation's director of equipment with the brief to lead the fight against technological fraud in racing.
The UCI first started testing for motors in bikes when rumours started to emerge about this new form of cheating in 2010. However it was not until 2015 that the sport's governing body began to take more serious measures, introducing specific sanction for the offence, and bringing in a new test which it said would make it easier to detect motors.
However doubts have been raised about the effectiveness of this testing, with an investigation by French, German, and Italian journalists in September claiming that the test could fail to detect some forms of motors.
The UCI responded to the report by saying that its testing was "highly effective both in tests and actual use."
Thank you for reading 10 articles this month* Join now for unlimited access
Enjoy your first month for just £1 / $1 / €1
*Read 5 free articles per month without a subscription
Join now for unlimited access
Try first month for just £1 / $1 / €1
Peter Cossins has been writing about professional cycling since 1993, with his reporting appearing in numerous publications and websites including Cycling Weekly, Cycle Sport and Procycling - which he edited from 2006 to 2009. Peter is the author of several books on cycling - The Monuments, his history of cycling's five greatest one-day Classic races, was published in 2014, followed in 2015 by Alpe d'Huez, an appraisal of cycling's greatest climb. Yellow Jersey - his celebration of the iconic Tour de France winner's jersey won the 2020 Telegraph Sports Book Awards Cycling Book of the Year Award.