WADA defends salbutamol rules after criticism over Chris Froome case
Current regulations will not change unless their is a scientific basis for doing so, says anti-doping body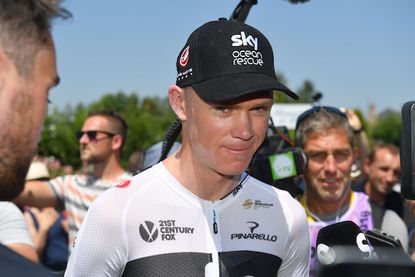 (Image credit: Yuzuru Sunada)
The World Anti-Doping Agency (WADA) has launched a staunch defence of its regulations concerning the use of salbutamol after its rules around the asthma drug were criticised in the wake of Chris Froome's salbutamol case.
One of the scientists who gave evidence in Froome's defence was Professor Ken Fitch, who helped establish WADA's rules on salbutamol and admitted last week that he had made a "terrible blunder" in the research that was used to establish those rules.
However in a lengthy "clarification" statement issued on Wednesday evening WADA defended its current regulations, insisting that "the current salbutamol threshold is at a correct level considering the scientific literature published on the substance over the past 20 years".
>>> Bradley Wiggins breaks his silence and speaks out on Chris Froome's salbutamol case
Current regulations have a "decision limit" of 1,200 nanograms of salbutamol per millilitre of urine, with an athlete giving a sample with a higher concentration of salbutamol being subject to an anti-doping investigation and having to prove that this high concentration was not as a result of exceeding the maximum permitted dosage.
"Unlike most substances, given the variables that exist with salbutamol depending on conditions specific to each case," WADA continued.
"The rule is designed to afford athletes found to have exceeded the threshold with the opportunity to prove how it has occurred and justify proper therapeutic use."
In Froome's case, the Team Sky rider and his legal and scientific teams were able to establish that his sample which was above the limit at 1,428 ng/ml of urine, when adjusted for specific gravity was not as a result of exceeding the maximum dosage.
Despite the criticism over its handling of Froome's case, WADA insisted that it had no plans to change its current rules surrounding salbutamol unless their is a scientific reason to do so.
>>> Luke Rowe 'light-heartedly' tears down anti-Team Sky banner before Tour de France start in Lorient
"Each case is assessed on its own merits and this decision changes nothing about the test or the regime," the statement went on. "At present, there is no evidence that a change to the threshold or decision limit for salbutamol is required.
"WADA has noted some public comments questioning the salbutamol threshold and how it was determined. It should be pointed out that studies conducted over the past 10 years – both WADA-funded and independent – have reinforced the legitimacy of the current threshold.
"However, mindful of the complexity of some specific salbutamol cases, in particular the fact that different routes of administration cannot be distinguished by urine analysis, WADA will continue to consult experts in the field and carry out research in this area."
WADA also released data showing that only around half of the salbutamol cases that it deals with result in suspensions, with the remainder either resulting in "reprimands" or the athlete being acquitted altogether.
The anti-doping body also said that the abuse of salbutamol in road cycling was very small compared to other sports, with only four of the 57 cases involving salbutamol that it dealt with between 2013 and 2017 involving road cyclists (not including Froome's case)
Thank you for reading 20 articles this month* Join now for unlimited access
Enjoy your first month for just £1 / $1 / €1
*Read 5 free articles per month without a subscription
Join now for unlimited access
Try first month for just £1 / $1 / €1