Road World Championships 2020: Elite men's road race start list
Here's who is taking part in the men's road race at the 2020 UCI Road World Championships at Imola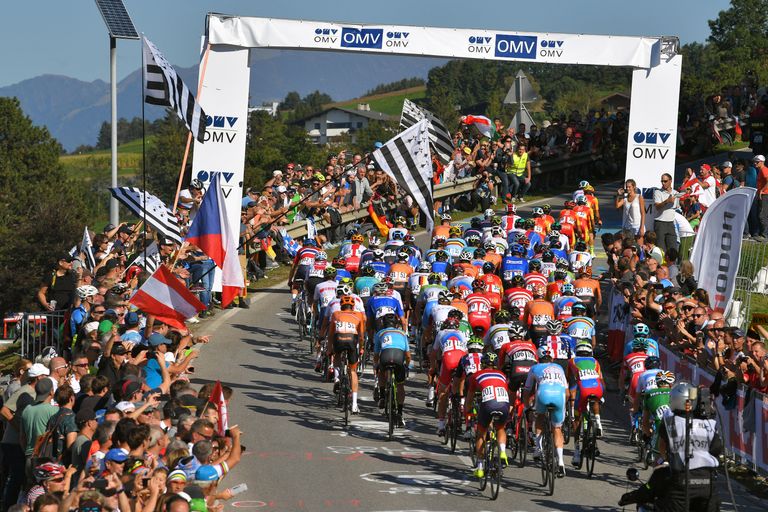 (Image credit: Getty Images)
99 ANIOŁKOWSKI Stanisław
100 GOŁAŚ Michał
101 KWIATKOWSKI Michał
102 MAŁECKI Kamil
103 OWSIAN Łukasz
104 PATERSKI Maciej
Hungary
Costa Rica
65 BILBAO Pello
66 DE LA CRUZ David
67 HERRADA Jesús
68 LANDA Mikel
69 MAS Enric
70 SÁNCHEZ Luis León
71 SOLER Marc
72 VALVERDE Alejandro
17 BAGIOLI Andrea
18 BETTIOL Alberto
19 BRAMBILLA Gianluca
20 CARUSO Damiano
21 MASNADA Fausto
22 NIBALI Vincenzo
23 ULISSI Diego
24 VISCONTI Giovanni
105 BENNETT George
106 BEVIN Patrick
107 FISHER-BLACK Finn
108 SMITH Dion
United States
144 BIZHIGITOV Zhandos
145 FOMINYKH Daniil
146 GRUZDEV Dmitry
147 LUTSENKO Alexey
148 NATAROV Yuriy
149 PRONSKY Vadim
154 GASTAUER Ben
172 ARASHIRO Yukiya
Defending champion, Mads Pedersen (Denmark) will not defend his title as he doesn't think the course suits his attributes.
Russia
134 BAYER Tobias
135 FRIEDRICH Marco
136 GALL Felix
137 SCHÖNBERGER Sebastien
138 WILDAUER Markus
139 ZOIDL Riccardo
Estonia
Japan
Mexico
177 ABDERRAHIM Zahiri
France
The start list will be confirmed closer to the race.
Netherlands
Spain
Australia
159 BOIVIN Guillaume
160 CATAFORD Alexander
161 HOULE Hugo
162 WOODS Michael
171 TZORTZAKIS Polychronis
Romania
Former winner, Alejandro Valverde (Spain) will be hoping that he can peak his form to take a second world title before potentially retiring after the Olympics in 2021.
1 FUGLSANG Jakob
2 EG Niklas
3 GREGAARD Jonas
4 HANSEN Jesper
5 HONORÉ Mikkel
6 VALGREN Michael
7 JUUL-JENSEN Chris
8 PEDERSEN Casper
109 HEALY Ben
110 MULLEN Ryan
111 ROCHE Nicolas
Ecuador
Portugal
121 COSTA Rui
122 GUERREIRO Ruben
123 OLIVEIRA Ivo
124 OLIVEIRA Nelson
Slovakia
150 DLAMINI Nic
151 MEINTJES Louis
Vincenzo Nibali (Italy) will be keen to perform well in a home World Championships, the route suits the Italian and would be an incredible moment for him to ride the Giro d'Italia as World Champion.
169 ASADOV Elchin
170 ERIKSSON Lucas
Greece
Canada
Belgium
Ireland
112 ALBASINI Michael
113 DILLIER Silvan
114 GASPAROTTO Enrico
115 HIRSCHI Marc
116 PELLAUD Simon
117 SCHÄR Michael
Eritrea
168 SISKEVICIUS Evaldas
9 BRAJKOVIČ Janez
10 MEZGEC Luka
11 NOVAK Domen
12 PIBERNIK Luka
13 POGAČAR Tadej
14 POLANC Jan
15 ROGLIČ Primož
16 TRATNIK Jan
The men's road race, on Sunday September 27, covers 259.2km taking in over 5000 metres of climbing over nine laps of a 28.8km circuit.
Peter Sagan (Slovakia) with his three Road World Championship wins (2015, 2016, 2017) cannot be forgotten.
Poland
130 CRADDOCK Lawson
131 KUSS Sepp
132 MCNULTY Brandon
133 POWLESS Neilson
152 KANGERT Tanel
153 PRUUS Peeter
173 GROSU Eduard-Michael
The 2020 UCI Road World Championships take place at Imola in Italy, kicking off on Thursday September 24.
Slovenia
Colombia
Wout van Aert (Belgium) is another one to watch, the former cyclo-cross rider has been in incredible form since the season restarted, winning Strade Bianche, Milan-San Remo along with a stage at the Critérium du Dauphiné and two stages at the Tour de France.
Sweden
Rwanda
93 CHERNETSKI Sergei
94 KUZNETSOV Viacheslav
95 NEKRASOV Denis
96 RIKUNOV Petr
97 ROVNY Ivan
98 STRAKHOV Dmitry
73 CLARKE Simon
74 DURBRIDGE Luke
75 HAMILTON Chris
76 HINDLEY Jai
77 HOWSON Damien
78 MATTHEWS Michael
79 PORTE Richie
80 SCHULTZ Nick
81 CARTHY Hugh
82 HAYTER Ethan
83 KNOX James
84 PIDCOCK Tom
85 ROWE Luke
86 SHAW James
125 BELLAN Juraj
126 ČANECKÝ Marek
127 CULLY Ján Andrej
128 HARING Martin
129 TYBOR Patrik
140 ČERNÝ Josef
141 HIRT Jan
142 OTRUBA Jakub
143 TOUPALÍK Adam
Kazakhstan
Riders will fight for the coveted rainbow jersey of world champion in the road race and individual time trial disciplines.
New Zealand
118 CAICEDO Jonathan
119 CARAPAZ Richard
120 CEPEDA Jefferson
156 BERHANE Natnael
157 GEBREIGZAHBIER Amanuel
158 KUDUS Merhawi
87 EIKING Odd Christian
88 HAGEN Carl Fredrik
89 HOELGAARD Markus
90 LAENGEN Vegard Stake
91 LEKNESSUND Andreas
92 TRAEEN Torstein
Great Britain
Ukraine
Belarus
166 RIABUSHENKO Aleksandr
Azerbaijan
175 CASTILLO Ulises
176 MUGISHA Samuel
41 DUMOULIN Tom
42 EENKHOORN Pascal
43 OOMEN Sam
44 TOLHOEK Antwan
45 TUSVELD Martijn
46 VAN BAARLE Dylan
47 VAN DER LIJKE Nick
48 WEENING Pieter
50 CHAVES Esteban
51 HIGUITA Sergio
52 LÓPEZ Miguel Ángel
53 MARTÍNEZ Daniel
54 MUNOZ Cristian Camilo
55 TEJADA Harold
56 URÁN Rigoberto
57 ARNDT Nikias
58 DEGENKOLB John
59 DENZ Nico
60 GESCHKE Simon
61 KOCH Jonas
62 MARTENS Paul
63 SCHACHMANN Max
64 ZIMMERMANN Georg
Austria
163 LUKŠEVICS Viesturs
164 NEILANDS Krists
165 SKUJINŠ Toms
The UCI say that the new route should suit the sam riders as the cancelled Swiss course with steep climbs on the circuit.
France's Julian Alaphilippe is hotly tipped to be up there at the finale as he looks to peak his form heading for the Classics, but he will have just finished the Tour de France seven days before.
33 ALAPHILIPPE Julian
34 BERNARD Julien
35 ELISSONDE Kenny
36 MADOUAS Valentin
37 MARTIN Guillaume
38 MOLARD Rudy
39 PACHER Quentin
40 PETERS Nans
Norway
Switzerland
Czech Republic
Luxembourg
155 BUDNIAK Anatolii
The World Championships were originally meant to take place in Aigle-Martigny in Switzerland but they were cancelled in August due to Coronavirus fears.
Lithuania
Latvia
167 VALTER Attila
Morocco
South Africa
Italy
25 BENOOT Tiesj
26 NAESEN Oliver
27 SERRY Pieter
28 STUYVEN Jasper
29 VAN AERT Wout
30 VAN AVERMAET Greg
31 VLIEGEN Loïc
32 WELLENS Tim
Germany
174 RIVERA Kevin
Denmark