Road World Championships 2019 mixed team time trial start lists
The confirmed start list for each nation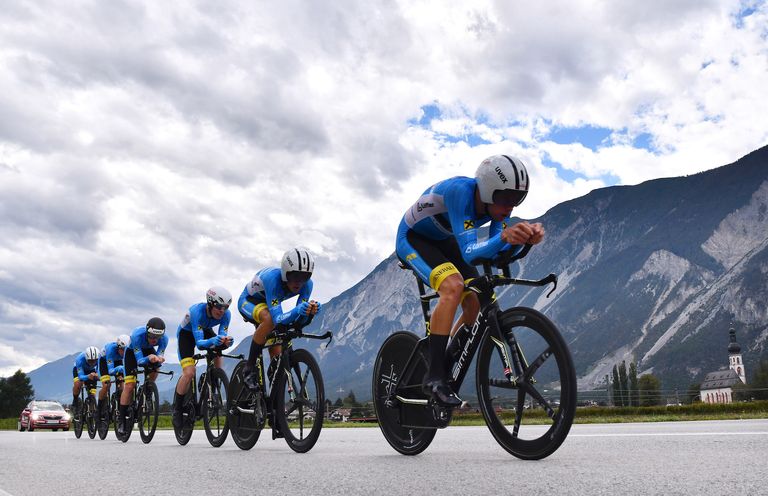 (Image credit: Getty Images)
Yorkshire will host the first ever UCI Road World Championships mixed team time trial on Sunday September 22.
>>> UCI Road World Championships 2019: dates, route, where to watch and more
Trade teams will no longer be a part of the event, which until now has been formed of a men's race and women's race.
Instead, nations will field a mixed team, with squads split into three men and three women competing in a relay format.
The race will be run over two laps of Yorkshire's Harrogate circuit, with the women beginning their race as soon as the men cross the finish line.
The format was tested at the European Championships in 2019, where the Netherlands took the win with Koen Bouwman, Bauke Mollema, Ramon Sinkeldam, Amy Pieters, Rijanne Markus and Floortje Mackaij.
The race will be broadcast on BBC Two, from 1 until 4pm. Here is the confirmed start list of riders for each nation.
Start list for World Championship mixed team time trial 2019 (confirmed with start times)
Netherlands - 15.04
1. BRAND Lucinda
2.MARKUS Riejanne
3. PIETERS Amy
4. BOUWMAN Koen
5. MOLLEMA Bauke
6. VAN EMDEN Jos
Germany - 15.01
11. BRENNAUER Lisa
12. KLEIN Lisa
13. KRÖGER Mieke
14. MARTIN Tony
15. POLITT Nils
16. SÜTTERLIN Jasha
Italy - 14.58
21. CECCHINI Elena
22.GUDERZO Tatiana
23. LONGO BORGHINI Elisa
24. AFFINI Edoardo
25. MARTINELLI Davide
26. VIVIANI Elia
Denmark - 14.18
31. LETH Julie
32. MATHIESEN Pernille
33. NORMAN HANSEN Lasse
34. JOHANSEN Julius
35. LISSON Christoffer
36. MADSEN Martin Toft
France - 14.15
41. BIANNIC Aude
42. DEMAY Coralie
43. ERAUD Séverine
44. ARMIRAIL Bruno
45. COUSIN Jérôme
46. SEIGLE Romain
Switzerland - 14.12
51. CHABBEY Elise
52. REUSSER Marlen
53. STIRNEMANN Matthias
54. FROIDEVAUX Robin
55. IMHOF Claudio
56. SUTER Joel
Slovenia - 14.09
61. BRAVEC Urška
62. BUJAK Eugenia
63. PINTAR Urša
64. POGAČAR Tadej
65. PRIMOŽIČ Jaka
66. TRATNIK Jan
Great Britain - 13.29
71. DOLAN Lauren
72. HENDERSON Anna
73. LOWDEN Joscelin
74. ARCHIBALD Jon
75. BIGHAM Daniel
76. TANFIELD Harry
Belgium - 13.26
81. DE VUYST Sofie
82. DEMEY Valerie
83. VAN DE VELDE Julie
84. BAKELANTS Jan
85. FRISON Frederik
86. LEYSEN Senne
Spain - 13.23
91. GARCIA Mavi
92. GUTIÉRREZ Sheyla
93. OYARBIDE Lourdes
94. CASTROVIEJO Jonathan
95. MAS Lluís
96. MORA Sebastián
WCC - 13.20
101. CAMPBELL Teniel
102. KOLESAVA Anastasiya
103. YAPURA Fernanda
104. CORKERY Dillon
105. KATERBERG Ben
106. KELEMEN Petr