Rapha posts £12m loss marking six years in the red
Clothing brand also reveals fall in turnover in latest company accounts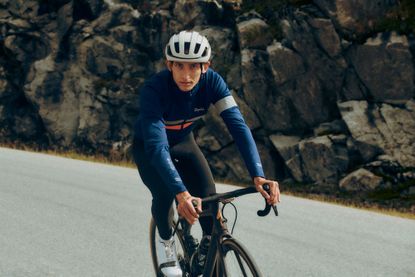 (Image credit: Rapha)
British cycling clothing brand Rapha has recorded financial losses for the sixth year in a row.
In the latest accounts, held under Carpegna Ltd and covering the year to 29 January 2023, the company posted a pre-tax loss of £12million ($14.6million).
This represents a deepening of the loss from the 2022 accounts, when the figure was £10.5million ($12.8million). In the years prior, pre-tax losses were £7million (2021), £23.5million (2020), £32million (2019) and £19.8million (2018).
Carpegna Ltd was incorporated in August 2017 and acts as the holding company for Rapha and its subsidiaries.
The last time Rapha posted a pre-tax profit was in January 2017, when the accounts revealed gains of £1.4million ($1.7million).
In a statement shared with Cycling Weekly, Rapha CEO Francois Concervey said: "Our financial results highlight the impact of a turbulent few years and the ongoing challenges faced by the business, and the cycling industry as a whole.
"Despite a negative profit year, through strategic decision making around reducing overhead costs, leadership changes and doubling down on our mission to 'inspire the world to live life by bike', I'm confident in our ability to navigate the current economic climate and make the right decisions to see improved performance."
He said that demand in the year had been "closer to the long-term average growth trend" after "two exceptional periods [years] driven by the Covid-19 pandemic and subsequent lockdowns".
Concervey added: "However, concerns over the cost of living have started to impact consumer confidence in certain markets.
The CEO also alluded to discounting across the industry, saying: "Additionally, the market has become more competitive as competitors, both direct and indirect, strive to normalise their supply chains after the disruptions caused by the pandemic."
He maintained that Rapha was stronger than it was before the pandemic "retaining many customers" who shopped with it over that time and "acquiring new ones".
Turnover for the clothing brand has remained buoyant in recent years. During the pandemic, Rapha posted a total turnover of £131.7million ($160million) for the year to January 2022.
This figure has since fallen, with the latest accounts showing a turnover of £118.4million ($144million).
2023 has proven a difficult year for kit brands, with British companies Milltag and Presca both collapsing.
Earlier this year, online retailer Wiggle Chain Reaction Cycles posted a pre-tax loss of £97million, citing the post-pandemic slump and Brexit as factors that hit the business. The company has since entered administration.
Thank you for reading 20 articles this month* Join now for unlimited access
Enjoy your first month for just £1 / $1 / €1
*Read 5 free articles per month without a subscription
Join now for unlimited access
Try first month for just £1 / $1 / €1