Rapha to redesign Richard Carapaz's Olympic champion jersey after UCI rule oversight
The EF Education-EasyPost rider's jersey lacked the necessary gold piping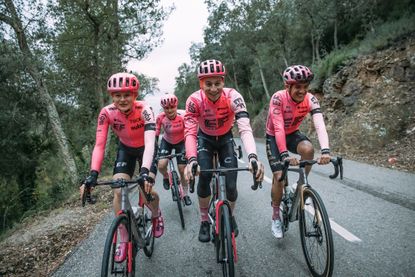 (Image credit: Chris Milliman / EF Pro Cycling)
Cycling brand Rapha is redesigning Richard Carapaz's Olympic champion kit for the 2023 season, Cycling Weekly understands.
As a result, the Ecuadorian is expected to wear a different, although similar, EF Education-EasyPost jersey to the one previously produced for him and released last week.
On Monday, Cycling Weekly questioned whether the initially released jersey was compliant with UCI specifications. According to the governing body's Jersey Visual Guidelines, the Olympic champion's jersey must bear a specific gold-coloured piping, which was not present on Carapaz's original kit.
The UCI document outlines that this gold piping "must seamlessly go around the sleeves and collar" of the jersey. In both instances, the height of the piping may differ, with the sleeves set at a height of 5cm and the collar allowed to a maximum of 5cm.
Carapaz's jersey, which appeared non-compliant with these rules, displayed subtle gold accents, including gold text on the shorts, rather than white, and a gold Rapha logo on the armband.
It is uncertain what the Olympic champion's new kit will look like, although it is expected to be similar to the current design but with the addition of the necessary gold piping.
According to the UCI's jersey regulations, all proportions and dimensions set out by the governing body must be respected. Likewise, teams must seek approval from the UCI before production.
Teams who do not follow the jersey specifications and approval process may be subject to fines.
Since Carapaz's kit was never worn in competition, it is highly unlikely that his team will be penalised.
In 2020, EF received a fine of 4,500 Swiss France (£3,700) for "non-compliant clothing" at the Giro d'Italia team presentation, where the riders turned up in special edition Palace duck jerseys.
"Oh UCI Cycling… you guys are always looking out for the best interest of the sport, aren't ya?" Team manager Jonathan Vaughters tweeted at the time. "Thanks for the $4000 of fines for wearing our crazy ducks. Hope David Lappartient [UCI President] enjoys his dinner - on us! Salud!"
The squad's 2021 jerseys kept all the blueprint sketch marks as part of their design, in part, as a nod to the infringement.
Rapha declined to comment on Carapaz's jersey redesign. Cycling Weekly approached both EF and the UCI for comment earlier this week but has yet to hear back.
Thank you for reading 20 articles this month* Join now for unlimited access
Enjoy your first month for just £1 / $1 / €1
*Read 5 free articles per month without a subscription
Join now for unlimited access
Try first month for just £1 / $1 / €1