Scotland bids to host 2017 Tour de France Grand Depart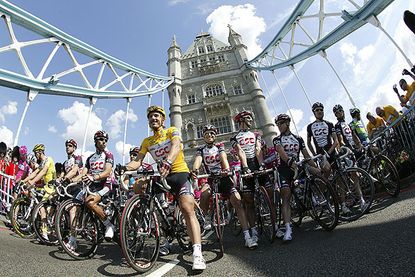 Scotland has put in a bid to host the Grand Depart of the 2017 Tour de France, with either Edinburgh or Glasgow hosting the opening stages.
National events agency EventScotland are hoping that the prologue time trial and first road stage of the 2017 Tour will take place in the country - the first time that the race will have visited Scotland.
EventScotland chief executive Paul Bush told BBC Radio Scotland on Monday morning: "To bring the Grand Depart Tour de France to Scotland - which is one of the greatest sporting events every year - in 2017 would be a huge coup."
Bush has already met with Tour director Christian Prudhomme to discuss the possibility of a Scottish start.
Last month it was confirmed that Mediterranean island Corsica will host the Grand Depart of the 2013 Tour de France, and 2017 is likely the next opportunity that the race will commence outside France.
EventScotland have said that hosting the Tour start will cost in the region of £5 million but will generate £100 million revenue for the area. This would tie in with figures quoted by former Mayor of London Ken Livingston relating to London's hosting of the 2007 Tour Grand Depart. It cost London around £1.5 million to host the event, with subsequent revenue generated hitting an estimated £80-90 million.
In December 2007, Cycling Weekly reported that Tour organisers had been approached by officials in Scotland regarding the hosting of a Grand Depart, but nothing further was heard about the project until now.
Scotland is no stranger to hosting top-level cycling events in recent years, having successfully put on rounds of the UCI Mountain Bike World Cup and World Championships in 2007. In addition, Glasgow will be hosting the 2014 Commonwealth Games.
Related links
Corsica approves 2013 Tour de France start
December 2007: Tour de France grand depart for Scotland
Thank you for reading 10 articles this month* Join now for unlimited access
Enjoy your first month for just £1 / $1 / €1
*Read 5 free articles per month without a subscription
Join now for unlimited access
Try first month for just £1 / $1 / €1