Shimano facing class action over recalled Hollowtech II cranksets
Trek and Specialized are also named in the action, following the recall of 2.8 million Ultegra and Dura-Ace items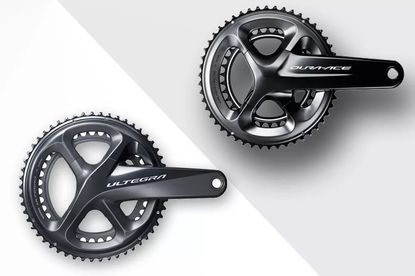 (Image credit: Future)
Shimano is facing a class-action lawsuit following its recall of up to 2.8 million cranksets globally over delamination issues, which affect its Hollowtech II 11-speed Ultegra and Dura-Ace bonded items.
The action was filed in the USA and names Specialized and Trek as defendants as well as Shimano.
One allegation within the 72-page action is that Shimano was aware of issues with the cranksets as early as 2016 or before – it cites the example of a rider who took his broken crank to a local bike shop, which called Shimano and was told it was already aware of the problem.
The document goes on to provide numerous other examples of defective cranksets and their coverage in the media.
"Even though Shimano has finally acknowledged the widespread issue, it is working hard to limit the cost of fixing the issue at the expense of consumers," wrote Steven Jodlowski, partner at DiCello Levitt in the court papers.
Trek and Specialized are named in the action for having sold bicycles equipped with the offending chainsets. The lawsuit cites Trek, Specialized and Shimano's "pervasive marketing messages" convincing buyers they were "purchasing a safe and dependable bicycle".
Jodlowski pointed out that bikes with chainsets that had not yet shown signs of delamination were not having their chainsets replaced as standard.
"This leaves [the buyer] in the unenviable position of either paying out of pocket for a new crankset or continuing to ride a dangerous bicycle while he waits on the crankset to break and potentially cause a crash and personal injury," wrote Jodlowski of both examples.
The recall began on 21 September when Shimano issued a recall of 760,000 of the chainsets in the USA and Canada, after reports of more than 4,000 of the items separating and sometimes causing injury.
In the UK and Europe the Japanese brand also started a inspection programme and pledged to replace damaged cranksets. The chainsets posed "potential fall and injury hazards to consumers," Shimano said.
The issue concerns Ultegra 6800 and 8000, and Dura-Ace 9000, R9100 and R9100-P chainsets made between 1 June 2012 and 30 June 2019, though Shimano said it expected "only a very small percentage of these cranksets will need to be replaced".
Each chainset is printed with a two letter code on the inside of the crank arm next to the pedal thread – you'll find the full list of these codes at the end of this story.
Shimano's 105 chainsets are not affected by the recall, because they are manufactured in a cold-forged process. No 10-speed or 12-speed components are affected either.
Owners of affected cranks are advised to take them to a bike shop, which will inspect the items.
"This inspection is designed to determine whether the crank arms show a possible bonding separation issue…" Shimano says, adding that it will replace any items that fail the inspection.
Product liability specialist Thomas Jervis at Leigh Day solicitors told Cycling Weekly it represented "a very unusual approach to corrective action", when considering the nature of the potential failure, which has led to documented examples of injury including lacerations and fractures.
"Either all affected products are defective because they share the same design characteristics which could lead to catastrophic failure, or they do not," he said.
Affected crank codes
Owners should check whether their crank arms are stamped with the following codes: KF, KG, KH, KI, KJ, KK, KL, LA, LB, LC, LD, LE, LF, LG, LH, LI, LJ, LK, LL, MA, MB, MC, MD, ME, MF, MG, MH, MI, MJ, MK, ML, NA, NB, NC, ND, NE, NF, NG, NH, NI, NJ, NK, NL, OA, OB, OC, OD, OE, OF, OG, OH, OI, OJ, OK, OL, PA, PB, PC, PD, PE, PF, PG, PH, PI, PJ, PK, PL, QA, QB, QC, QD, QE, QF, QG, QH, QI, QJ, QK, QL, RA, RB, RC, RD, RE, and RF.
More information can be found at bike.shimano.com.
Thank you for reading 20 articles this month* Join now for unlimited access
Enjoy your first month for just £1 / $1 / €1
*Read 5 free articles per month without a subscription
Join now for unlimited access
Try first month for just £1 / $1 / €1