Sky's Lofkvist to target Giro d'Italia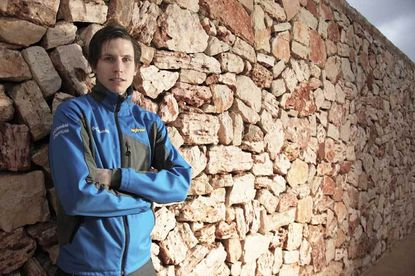 Team Sky will give Swede Thomas Löfkvist a chance to lead its Giro d'Italia team in May. Team Principal David Brailsford explained that the three-week Italian stage race is one of
Löfkvist's
"key targets" after a successful Tour de France in support of Bradley Wiggins.
"Thomas rode his best ever Grand Tour at the Tour de France last year. He felt he really stepped up," Brailsford told Cycling Weekly this morning. "To give him the opportunity to focus on the Giro seems like a sensible progression, but of course, there is a lot of bike racing between now and then."
"It's nice," Löfkvist told Swedish Eurosport of the opportunity. "It is difficult to set goals now. You have to arrive well prepared and then see how far you can go."
The Giro d'Italia starts on May 7 in Turin with a team time trial and ends on May 29 with an individual time trial in Milan. The route features seven stages with mountaintop finishes, including Mount Etna in the south and Monte Zoncolan in the north.
"It is extraordinary," Löfkvist said of the route. He has no plans to preview the stages. "For the stages I'm interested in, there is still snow."
"It's an extremely tough course. Thomas has very good consistency," added Brailsford. "But, don't forget, we also have the likes of Morris Possoni, who climbs particularly well. We think his climbing potential will be well suited to the Giro."
Bradley Wiggins raced the Giro d'Italia this year and Löfkvist skipped it. Wiggins explained last month that he will focus on altitude training instead of racing the Giro d'Italia next year. Löfkvist hopes to have a chance at both.
"He is still very keen to race the Tour de France, and support whoever the leader will be," Brailsford said. "It will have to be monitored, in terms of the severity and how fresh you come out of the Giro. We have a good group of riders who would like to ride the Tour this year."
Six weeks separate the end of the Giro d'Italia and the start of the Tour de France.
"There are many great cyclists who want to race the Tour. At the Giro, there are more chances for me," Löfkvist said after the Giro's route announcement in October. "If I get what I want, I will race the Giro as a captain and then help at the Tour.
"If you use the month in between well, you can benefit from racing the Giro."
Gösta Pettersson is the first and only Swede to win Giro d'Italia. He took the overall leader's pink jersey and defended for three days to win forty years ago, in 1971.
Löfkvist became the third Swede wear the pink jersey in 2009. He won it after the fourth stage, the mountaintop finish at San Martino di Castrozza, and kept it for one day.
Related links
Team Sky: Turning things on their head for 2011
Thank you for reading 20 articles this month* Join now for unlimited access
Enjoy your first month for just £1 / $1 / €1
*Read 5 free articles per month without a subscription
Join now for unlimited access
Try first month for just £1 / $1 / €1