Spanish media claims Contador could avoid ban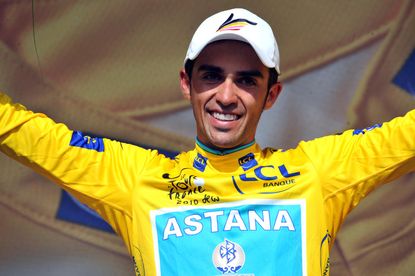 Four different media sources in Spain are claiming that Alberto Contador may be cleared completely of all charges of doping by his federation when it publishes its definitive verdict on Tuesday.
The verdict is due to be published tomorrow (Tuesday) but anonymous sources within what is supposed to be a confidential system are reported to have tipped off the press in advance.
That was what happened prior to the provisional verdict of a year's suspension for Contador's clenbuterol positive, which was leaked by insiders around ten days ago. And it may - or may not - be true again this time round.
So far three newspapers - both of Spain's biggest selling dailies, El Mundo and El Pais, as well as the best-selling sports-only daily, MARCA and its closest rival, AS - have claimed that Contador's initial sentence of a year may well be revised in his favour.
All of them have had excellent insider access in the past to information on the Contador case, to the point where El Mundo has already published the entire federation file on the case.
The sentence, come what may, is almost certain not to be the final stage of the Contador case. Both WADA and the UCI have repeated they reserve the right to go to the Court of Arbitration for Sport should they disagree with the Spanish federation's final verdict.
Although WADA have dropped their possible appeal against Dimitrij Ovtcharov, a table tennis player who also used the 'contaminated meat' argument and was cleared by the German table tennis federation, it has been pointed out that Contador ate the meat in Europe, where clenbuterol use for stock fattening is illegal, not China - where clenbuterol is widely used and where Ovtcharov ate it.
Contador's legal team have claimed, though, that the level of testing for clenbuterol in Europe is insufficient, something they have backed up with scientific research.
Should the verdict go against Contador, and be raised to two years, or remain the same, which is still technically possible, then the Spaniard has already stated he will fight on.
If he is cleared, Contador would, however, be free to race. Around a month ago, he was listed by his team, Saxo Bank, as a possible starter in the Tour of Murcia in early March. There are reports in Spain that he will even be able to race in the Tour of the Algarve.
Related links
Contador could use 'Gasquet's Kiss' theory to back case
Contador says he will fight on despite provisional ban
UCI awaits final Spanish decision in Contador case
Ricco suspended by Vacansoleil team
Thank you for reading 20 articles this month* Join now for unlimited access
Enjoy your first month for just £1 / $1 / €1
*Read 5 free articles per month without a subscription
Join now for unlimited access
Try first month for just £1 / $1 / €1