Swift recovering from operation ahead of 2013 season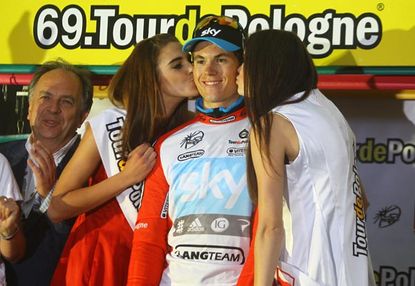 Ben Swift will be restricted to the home trainer for the first three weeks of his pre-season as he continues to recover from intricate shoulder surgery.
The 25-year-old has been sporting a sling following the operation that corrected an injury sustained more than a year ago.
"I actually crashed when I got back from the Tour Down Under in 2011 and I damaged my shoulder. It progressively got worse and worse," Swift told Cycling Weekly.
"I could have had it operated on last winter but with me pushing so hard for a place in the Olympics I put up with the pain. We decided to postpone the operation and now is a good time as any to get it fixed."
Swift has managed the aching injury throughout what he describes as a mixed season with Sky.
"It only really affects me in the last sort of hour and in the high mountains when you have to grip the bars and use your shoulders a lot," he said. "I wouldn't say it's performance related because it really hurts in the times I'm not in contention."
The sprinter is focused on a Spring Classics berth next season and has not ruled out the possibility of skipping all three Grand Tours, or focusing on being in form for the Vuelta a Espana, with his team's general classification focus set to encompass both the Giro d'Italia and the Tour de France in 2013.
Swift celebrated two stage wins at the Tour of Poland [and won the points classification], five second and four third places on the road this year after initially concentrating on the track up to and including the April world championships where he won gold in the scratch race. His track focus coincided with the London Olympic Games and he had hoped to be selected initially for the Great Britain team pursuit and then later the road race squad.
Swift was top three in two stages of June's Tour of Luxembourg, two at the Tour of Switzerland, four at the Tour of Poland and three at the Vuelta. He was consistent at some of cycling's most challenging weeklong stage races but still not completely content.
"It was a good and bad year to be honest," he reflected.
"A lot of the early season and a lot of my winter training was all focused on the track and it was all for track racing. I missed the call on the team pursuit, which was what I was going for, but then that enabled me to do events that I loved at the world championships. I got to ride the races that I've always grown up enjoying.
"That was the end of my track really for the year because we made the call before the racing commenced at the world championships that it [Olympics] wasn't going to happen. I was always going to be man six or man five so made the call after that to really push for a place on the road and make that road team. As it happened I ended up being first reserve for the road team, which was frustratingly close but also I mean it was what it was. I gave it everything and I think the four guys that went there in support of Cav [Mark Cavendish] were the best four guys we could have picked for those roles."
Swift will continue to work under the tutelage of race coach, Rod Ellingworth next season and so is personally unaffected by the recent staff losses, notably Bobby Julich who has worked closely with Tour runner-up Chris Froome as well as Australian Richie Porte, in the wake of the U.S. Anti-Doping Agency report that has had wide-ranging ramifications.
"It's not nice to go through especially with some of the staff that have gone because we've really got a good bond within the team, not just with the riders but with the whole staff. I think that's the good thing about Sky - there's a real community atmosphere," he said.
Swift will focus on the road for the next few years but has not called time on his track career with the 2016 Rio Olympics at the back of his mind. A berth there however may depend on the Games track programme, which in London this year included only two endurance events in the team pursuit and omnium.
"I love the track, I've grown up on the track but just at the minute there's nothing [that caters] for my style of riding," he said.
"I should be good at the team pursuit but I just can't seem to get it right. The omnium is something that again should suit my style but the events I'm good in are much more of a lottery. The three bunch races anything can happen whereas a good person against the clock, who is going to get the results purely on a time basis, then it's much more easier to focus on the omnium then. I'd love to see the points race or Madison come back into the Olympics and then certainly I'd love to be a part of that."
Swift is set to begin the 2013 season at January's Tour Down Under in Adelaide, Australia.
Read more about Swift's 2013 Spring Classics orientation and Grand Tour intentions in this week's Cycling Weekly magazine, out Thursday for £2.99.
Thank you for reading 5 articles this month* Join now for unlimited access
Enjoy your first month for just £1 / $1 / €1
*Read 5 free articles per month without a subscription
Join now for unlimited access
Try first month for just £1 / $1 / €1
Sophie Smith is an Australian journalist, television reporter and presenter, who has provided coverage for Cycling Weekly from races across the world. She has covered eight Tours de France, as well as reporting for national and international newspapers as well as other magazines.
Follow Sophie Smith on Twitter and Instagram:
Instagram: sophiesmith86
Twitter: @SophieSmith86