Team Sky riders and staff must sign anti-doping policy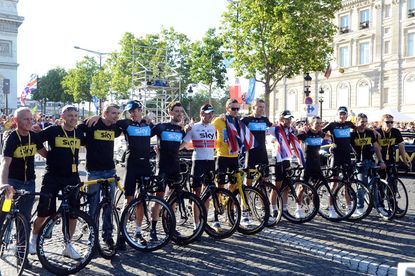 All riders and staff of Team Sky must sign a 'clear written policy' confirming that they have had no past or present involvement in the use of banned performance enhancing substances, the squad announced on Wednesday.
As part of the process, Sky riders and staff will be interviewed. Any member of the team not signing the agreement will have to leave the squad. If the contract is breached by any member at any time, they will also have to leave the squad as part of a 'zero tolerance' policy.
The team said in a statement: "Team Sky has had a clear position on doping from the very start. We are a clean team and have shown it is possible to win clean.
"We want a team in which riders are free of the risks of doping and in which fans - new and old - can believe without any doubt or hesitation.
"There is no place in Team Sky for those with an involvement in doping, whether past or present. This applies to management, support staff and riders."
The move comes on the back of a series of embarrassing incidents for the team relating to the United States Anti-Doping Agency (USADA) report published last week that concluded there was an organised, widespread doping programme at Lance Armstrong's US Postal team from 1999 to 2007.
Michael Barry, who announced his retirement from Team Sky and professional cycling on September 9, was one of those named in the report. He subsequently admitted to doping during his time at US Postal, but stressed that he did not dope during his time at Sky from 2010 to 2012. Barry was one of 11 former team-mates of Armstrong named in the report that have admitted to doping.
Then there was Sky's hiring of former Rabobank doctor Geert Leinders, who was active at Rabobank when Michael Rasmussen was ejected from the Tour de France for breaking anti-doping rules. Although Leinders was not directly linked with Rasmussen, his appointment contradicted Sky's formerly stated policy of not hiring medical staff from cycling teams. Leinders has not had his contract renewed.
Australian Michael Rogers has also admitted to using the services of banned doctor and trainer Michele Ferrari - the same doctor used by Armstrong. Rogers' last contact with Ferrari was in 2006, when his then T-Mobile team severed his ties with the Italian. There has been no implication that Rogers has used banned substances.
Sky directeur Sportif Sean Yates also has a strong connection to Armstrong's teams, having ridden with the Texan at Motorola and then worked as a DS at Armstrong's Discovery Channel and Astana squads. Yates has publicly stated that he saw nothing untoward during his time on the same teams as Armstrong.
Sky is obviously keen to thoroughly distance itself from anyone named in the USADA report, and also to anyone with any history of involvement in doping. But with doping so widespread in cycling during the past two decades and with so many team staff and riders involved, it is highly likely that there may be some team members that feel uncomfortable signing the agreement.
"We are making this statement because we believe it is important to be open about the steps we are taking," said Sky. "However, we do not intend to give a running commentary on this or to discuss any individual at this time.
"By reaffirming Team Sky's position on doping, we aim to play our part in a clean future for cycling in which everyone can have confidence in the sport."
When details of the British-based Sky team were first revealed at the start of 2009, Brailsford made it clear that a strict anti-doping policy would be at the heart of the squad. Talking during an interview with Cycle Sport magazine at the time (February 2009 issue), Brailsford said:
"We want a clean team, first and foremost. That's non negotiable. We're not messing about with that one. It's not PR, it's not saying what people want to hear, it's the bottom line.
"We won't take any risks at all. The first thing I will spell out to riders is that, no, you absolutely do not do that. We will do everything we can to provide everything they need to be able to compete without doping, or even think about doping."
Related links
Armstrong steps down as LiveStrong chairman, Nike and Trek terminate his contract
USADA's Armstrong doping report in brief
USADA doping report repercussions continue
Leipheimer sacked by Omega Pharma-QuickStep
Leipheimer, Zabriskie, Vande Velde and Danielson all admit to doping
USADA publishes details of Amrstrong doping case
UCI responds to USADA Armstrong doping evidence
Former Armstrong team-mate Barry: Doping had become an epidemic problem
Hincapie admits to doping during career
External link
Link to USADA's full Reasoned Decision document and all supporting evidence
Thank you for reading 20 articles this month* Join now for unlimited access
Enjoy your first month for just £1 / $1 / €1
*Read 5 free articles per month without a subscription
Join now for unlimited access
Try first month for just £1 / $1 / €1