Remco Evenepoel's journey from football prodigy to cycling World Champion
How a young footballer went on to become one of the best riders in the world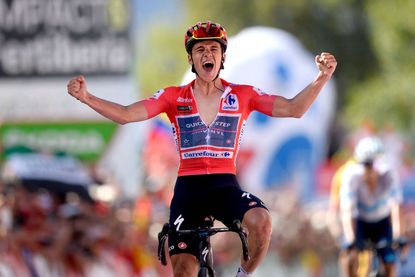 (Image credit: Getty Images)
This article appeared in the September 2022 issue of Cycling Weekly
It is summer in Lanzarote and Remco Evenepoel, the 15-year-old footballer and captain of his beloved RSC Anderlecht and Belgian U16 national team, is bored. "Remco came up to me and asked if I wanted to join him on a bike ride," remembers his team-mate Sebastiaan Bornauw, who by coincidence was at the same hotel with his own family.
"I said yes because I thought it would be 50km," continues Bornauw to CW. "But Remco said, 'Oh no, it's much longer than that. It'll be 160km or 180km.' I said, 'Remco, I'm a footballer and I weigh 90kg. I can do 50km, but Lanzarote is not flat and I haven't trained for that.' He said he had trained, so I said, 'Remco, good luck,' and he went by himself. He just loved to suffer physically."
Evenepoel, now a Vuelta a España winner and the hottest young thing in pro cycling, was a defensive midfielder and a left-back, good on the ball and an organised and inspirational leader. But his team-mates, including Bornauw – who now plays in Germany's Bundesliga for VfL Wolfsburg – would often remark on Evenepoel's endurance traits rather than his footballing qualities. Indeed, when he played for PSV Eindhoven between the ages of 11 and 14, coaches at the Dutch team remarked on the abnormally high V02 max possessed by the kid with floppy blond hair.
Upon returning to Anderlecht, his coach Stéphane Stassin was staggered by Evenepoel's capacity to never tire, and he vividly remembers the first weekend in October 2016 when Evenepoel was 16.
"We had played a big game on the Saturday and we had another big game on the Tuesday," Stassin says. "I told Remco not to do anything on the Sunday because I knew he liked to go running or cycle 60-70km with his father.
"On the Sunday I was running the Brussels Half Marathon and I started early because I was running it with a disability organisation. At one moment I heard a group of really fast runners coming by, and there was this one guy in an Anderlecht training kit who said, 'Hey, coach, how are you?' It was Remco, and he was running like crazy again – a day after he played a game."
There were 6,444 finishers in the event, Evenepoel finished 13th in a time of 1-16.15. It was unbelievable but Stassin was not surprised. "It was just typical of Remco that he could not let this race go by without running really fast," he says.
Astonishing endurance
Stassin had grown accustomed to watching Evenepoel astonish everyone in endurance challenges, including in pre-season team-building ones. "No one ever wanted to be in Remco's group because he would go too fast and his team-mates would have to follow him when it was meant to be for pleasure and leisure," Stassin says.
Evenepoel's then-team-mate, Michiel de Looze, recalls one such exercise. "We had to run a 10km race which included sections of sand, obstacles and water," the Belgian says. "As a group we said we'd run it but we would cheat a little and not do all the obstacles. We didn't want to run our lungs out. At the end we realised that Remco had won the race. We got to him and said, 'Remco, what the hell are you doing? This is a team-building exercise.'"
Drive and focus were Evenepoel's standout attributes, but he also had an eye on Brand Remco before it became a thing, studying sciences and languages at the Sint-Godelieve Institute. One close confidant says: "Remco has always been good with people and he likes the attention. Is he clever? He's good with languages and has emotional intelligence. Intellectually..." he tails off, letting us guess the rest.
Whatever the answer, at football training he was continuing to amaze. It is said that Evenepoel – who would train on his mountain bike in the summer – still holds the beep test record at Anderlecht, although the club could not verify that. But everyone remembers his battles with Hannes Delcroix, now playing in the first team at Anderlecht, to run further than anyone else.
"He and Hannes were always the last ones," Bornauw laughs. "Everyone else would be dead, already sitting down for five minutes, and they were still going. I don't think Remco was the most talented player that ever existed, but his physical capabilities were incredible."
Stassin again: "When he was doing these tests, the coaches said to Remco as a joke that he should stop playing football and go and do some individual sports because his abilities were better suited towards these sports."
The joke, however, soon transpired to be reality. Evenepoel hadn't developed at the same rate as his team-mates and he was dropped first by the national team and then by Anderlecht. He fumed that he "received no explanation". Despite signing for KV Mechelen who were prepared to offer him a professional contract six months down the line, Evenepoel had fallen out of love with the sport. He hung up his football boots
'Always outside playing sports'
Fred Vandervennet, a former three-time Belgian marathon champion, had known Evenepoel since he was born. A friend of his father, Patrick, who was also a professional cyclist and later a plasterer, Vandervennet recalls how aged just three, "Remco could play with a football like I had never seen before." Throughout his childhood, Evenepoel "was never playing with game consoles; he was always outside, always playing sport."
In the spring of 2017, with his football days numbered, Evenepoel rang Vandervennet. "He called me and told me he wanted to do some cycling," Vandervennet recollects. "I asked him if his parents knew and he said no. 'OK, good,' I said."
Over the course of the next fortnight, Vandervennet coached Evenepoel, who was discreetly using his father's old bike. "After two weeks, his parents realised that the normal Remco was no longer in the house," Vandervennet continues. "His parents sat him down and said, 'Remco, what is happening?' He said, 'Call Fred, he knows everything.'"
His mother, a hairdresser, and his father rang Vandervennet, who adds: "His dad was really happy and said, 'Fred, I think we have a cyclist.'"
It was clear from the outset that Evenepoel had potential on a bike. "The first time I followed Remco, we did a hilly route in the Ardennes and his average speed was more than 30kph," Vandervennet says. "That was his first ride with me. I knew he was exceptional."
Within a few weeks, Evenepoel wanted to race, and his father rang Patrick Verschueren, the manager of the Forte Young junior team. "I said I wasn't so sure because he was still a footballer," Verschueren recollects. "But I said I'd like to see how he rides and how he is mentally. As soon as I saw him riding, I said, 'OK, you can come to our team.'"
Evenepoel had shown enough promise to persuade Verschueren, but there was an awful lot of improvement to be done. "In the beginning I thought, 'Oh no, he's never going to be something.' He was a shocker!" Verschueren laughs. "It was obvious he was still a footballer. He had a terrible position. The first thing I told his father was that he needed to get Remco a good bike fit."
Vandervennet interjects with his own memory. "He was one of the worst riders I have ever seen going downhill," he chuckles. "He was so bad. I eventually took him in the car with me and told him this is how you take curves."
On the start line
On 2 April, 2017 Evenepoel pinned a race number on for the very first time in a small race in Zoutleeuw. Verschueren remembers: "In his first few races he said he wanted to learn how to ride in a big group, but he said, 'Give me two months and I will attack.'"
Going off first impressions, it was fanciful stuff. "The first few weeks he couldn't ride a bike," Verschueren goes on. "He was scared in the peloton and the other riders had to tell him to stay calm. His team-mates were coming to me and saying, 'Shut up, Patrick, what is he going to do?'"
It's true, they were bewildered as to why a novice cyclist was racing in what eventually turned out to be the country's best junior team, with seven of the riders going on to become professionals. Danny van der Tuuk, who now rides for Kern Pharma, says: "When I first met Remco he was crashing a lot and he couldn't finish races. We were like, 'Hmm, not sure if you're gonna be successful if you keep crashing.'"
A month after his race debut, Evenepoel broke his nose in a French race, his first competition outside of Belgium. Van der Tuuk remembers "thinking that maybe he was going to quit cycling because if you crash hard and go to hospital, naturally you question what you are doing."
'Be the best'
On the day he turned 17, Evenepoel had taken to Instagram to write that he was "ready to do some crazy s**t", accompanied by a meme that read: be the best; f**k the rest. Four months on from that January 2017 post, the footballer-cum-cyclist came true to his word.
Verschueren remembers: "After two weeks of racing, he told me, 'OK, Patrick, I am now safe in the peloton and I want to attack. I won't wait two months like I said – I'll do it now.'" In just his sixth race he competed for the win, and then in his 10th Evenepoel claimed his maiden triumph at a race in Bollebeek. Evenepoel went to the Junior Tour of the Basque Country in July, winning a stage and finishing second overall.
"Every day it was attack, attack, attack," Verschueren remembers. "He won every other jersey but the leader's. A month later we had the Junior Amstel Gold and Remco ordered a cake and champagne for his dad's birthday. He told the team that he would be winning for his dad, and he did – by three minutes."
By now, the word was out – the ex-footballer was a cycling superstar in the making and he declared on social media that "only winning counts".
In 2018 he rode for the Acrog-Pauwels Sauzen junior team, and he made an instant impact at their winter training camp in Mojácar in Spain, riding an extra two hours every day. Casper van Uden, now of Team DSM, remembers: "There was a 20-minute climb that we used for a test. It was meant to be some fun racing and testing, but Remco smashed all of the previous record times.
"The next day we went out to practise some leadouts and sprints together and the plan was to try and beat the other sprint trains. Remco was basically a whole train on his own."
When racing got under way, he won the Junior Kuurne-Brussels-Kuurne solo. "We all finished and said, 'Heck, he's so, so good,'" van Uden says. "We started saying, 'Remco's doing Remco Things.'" Over the coming months, Evenepoel won pretty much every single race he competed in. Davide Bomboi, his room-mate in that period, says: "Before a race he'd say he was going to attack here or do this or that, and then afterwards he would just laugh because he did exactly what he said he would."
In a conversation with his coach Vandervennet, Evenepoel said that "his goals for the rest of the season were to win everything", and come May's National Championships, his team-mates were instructed to help him win.
"Usually everyone gets their own chances at the Nationals, but the DS said before the start Remco's the strongest so we had to help him. If he won we'd get €100 each," Bomboi remembers.
"We obviously all agreed but he attacked after two kilometres and won by five minutes. We didn't have to do anything and still got €100 each!"
Seven weeks later, he won the European Junior Road Race Championships by almost 10 minutes, a highlight in a season in which he won 31 races, topped 15 general, points and mountains classifications, and ended it as junior road race and time trial world champion. He skipped an agreed move to Hagens Berman-Axeon to join Deceuninck-Quick Step, becoming the first WorldTour rider to be born in the 21st century.
Starting again in the WorldTour
His first race as a professional, the Vuelta a San Juan in Argentina, began the day after he turned 19, and he won the youth classification. Twelve months later, he won the race overall. "It was ridiculous," his team-mate Pieter Serry says. "He was behind some echelons and the way he closed them, the way he came back to save his GC was really quite impressive because five or six teams were pulling full-gas to drop him and they didn't manage it."
In the spring of this year, four months before he won the Vuelta a España, Evenepoel won Liège-Bastogne-Liège, his first Monument victory. On the bus that morning, he reflected on his journey from riding his bike to football training and running in forests the day after games to being one of the biggest names in cycling.
Vandervennet says: "He sent me a message before Liège saying that if he wins today, it's thanks to me. I thought, 'Oh la la, he is going to win.'"
Evenepoel spent the first 90 minutes of the race chatting with van der Tuuk, who was competing in his first Monument. "We talked about the past, about what we did in the juniors," van der Tuuk remembers, "and I told him today was his moment to win his first Monument. He just smiled."
Evenepoel might have gone about it in an unconventional way, but it was obvious from the beginning of his sporting days that he was destined to be one of the world's finest endurance athletes. Stassin, his long-time football coach, concludes: "Remco always wanted to be the best at everything. None of us are surprised that he is."
Thank you for reading 20 articles this month* Join now for unlimited access
Enjoy your first month for just £1 / $1 / €1
*Read 5 free articles per month without a subscription
Join now for unlimited access
Try first month for just £1 / $1 / €1