'This is amazing recognition of not just accolades but of purpose': Gravel Cycling Hall of Fame inductees announced
Alison Tetrick, Yuri Hauswald, Miguel Crawford and Joel Dyke to be inducted in the Gravel Cycling Hall of Fame in May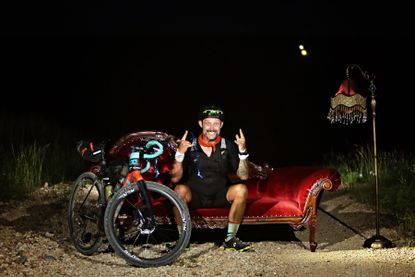 (Image credit: Yuri Hauswald)
The Gravel Cycling Hall of Fame (GCHOF) today announced its second class of inductees. The four gravel specialists, nominated by the general public and chosen by a board of advisories, are off-road veteran Yuri Hauswald, former WorldTour roadie turned gravel queen Alison Tetrick, Grasshopper Adventure Series creator Miguel Crawford and co-founder of the Unbound 200, the late Joel Dyke.
Alison Tetrick was moved to tears upon hearing the news that she'd be inducted in the GHOF. At 37 years of age, she's the youngest inductee yet and the only woman in this year's batch.
"I am absolutely thrilled. I think a lot of times in this sport, you question your life choices or what you're doing to bring value and this is just an amazing recognition of not just accolades but of purpose," Tetrick told Cycling Weekly.
"The people who have already been inducted and who are selecting these inductees are all people that I am very inspired by. They are people that have a huge impact on our communities.They are why I got into this sport."
Hauswald, too, is moved by the recognition.
"I'm stoked and I'm just super honored and humbled by it," he said. "To join the folks who got in last year feels really good. I'm amongst some pretty rarefied gravel company."
The Gravel Cycling Hall of Fame was launched ahead of the 2022 Unbound Gravel event in Emporia, Kansas, to recognize and celebrate those who explore, endure, overcome and inspire in the sport of gravel cycling.
"As the world of gravel expands rapidly, we felt it was important to preserve the stories of those individuals who have been so instrumental in creating an environment that allowed gravel cycling to flourish," the founders state.
The 2022 class of inductees were Corey Godfrey, Dan Hughes, Kristi Mohn, Rebecca Rusch, Chris Skogen, Mark Stevenson and Bobby Wintle, many of whom you can read about in our article about gravel cycling's leaders.
While these first two rounds of Hall of Famers are all Americans, the GCHOF organizers recognize that gravel is an international movement and view the Gravel Hall of Fame as a "reflection of the sport and will be including stories from the world over".
Yuri Hauswald: Riding for Her
Regular readers of Cycling Weekly may recognize Yuri Hauswald for his opinions on all things gravel and his excellent trip recommendations.
Hauswald, a former English teacher, turned pro at the tender age of 36 and finished ninth at the World 24 Hour MTB Championships that same year. While a mountain biker at heart, Hauswald was an early adopter of the wide-tired, drop-bar movement. He won the 200-mile race at Unbound (then known as Dirty Kanza) in 2015 at the age of 45. Three years later he came back to go even bigger, tackling the inaugural Unbound XL, a 350-mile self-supported gravel race. He finished second.
"If I had to put my finger on the highlight of my career, it'd be winning in 2015," Hauswald said.
"I haven't actually won that many races in my career, to be totally honest, I'm not that fast of a racer. So to win Unbound in those conditions — 'the biblical mud year'— was incredible. And then my wife had actually surprised me the night prior, and it still brings me to tears. The gnarly conditions and it coming down to a two-up sprint and having my wife at the finish was just the ultimate."
Hauswald's wife, Vanessa, has battled with stage four colon cancer and the chemo side effects for over a decade now. At the 2015 Unbound and every event since, Hauswald rides for her.
"Unbound 2015 was the pinnacle of my career. But this, getting into the Hall of Fame, is the icing on the cake, the cherry on top," he said. "It's a huge honor and it's something that I'm extremely proud of."
Hauswald will be celebrating his induction the only way he knows how: with a 100-mile bike ride from Lawrence, KS, to the ceremony in Emporia on May 31st.
"With my past 20 years in the sport, I hope I can set some sort of example of chasing your passions and doing what you love because you never know where it will lead you," Hauswald said.
"Gravel completely changed the trajectory of my career. Instead of winding down at the age of 40 something, I just kept winding it back up. I turn 53 in June and I just signed a new contract with Giant and I don't plan on giving up my racing career for a while."
Ali Tetrick: Riding for Purpose
In many ways, Alison Tetrick's career really took off when she left the paved road behind.
A product of USA Cycling's Talent ID camp of 2008, Tetrick turned pro with Team Tibco in 2009. She went on to ride for TeamTwenty12, Astana BePink, Optum-KBS and Cylance Pro Cycling. Her palmares includes several trips to the podium at Chrono des Nations as well as a bronze medal in the team time trial at the 2014 UCI World Championships.
In the gravel scene, however, she's considered 'a queen' — with a belt buckle to prove it. She's a three-time unofficial Gravel World Champion and a three-time Unbound 200 podium finisher, including the 2017 winner.
Over the years she's transitioned her racing away from results and into finding purpose, bringing new people into the sport, raising money for youth development programs, advocating for women's cycling and more.
"It's all come around full circle. You can go and challenge yourself to win or be your best version, and then to come back and give back to the community that's supported you along the way, makes it all worthwhile. It gives my cycling a purpose," she said. "You have this one opportunity in your life to do something real, to give back, and gravel gave me that chance."
And being recognized for this work is just as meaningful to Tetrick than any race podium.
"It's an absolute honor. There are so many men and women who paved —or is it unpaved?— my way into the gravel sport. Hearing their stories is why I started in gravel. They've made a huge impact on our community and to be listed among them…it really means a lot to me," Tetrick said.
"It's meaningful to keep carrying the torch that they lit and I hope I can do that. it's very humbling for me to be in this position."
Thank you for reading 20 articles this month* Join now for unlimited access
Enjoy your first month for just £1 / $1 / €1
*Read 5 free articles per month without a subscription
Join now for unlimited access
Try first month for just £1 / $1 / €1