Tour Down Under 2011: Start list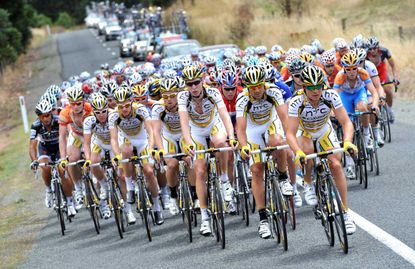 Nineteen teams will take part in this year's Tour Down Under, Australia, from Tuesday, January 18 to Sunday, January 23 2011.
Each team comprises of seven riders, bringing the total number of participants in the six-stage race to 133.
As the TdU is the opening event in the UCI's WorldTour calendar, all 18 ProTeams are present by default. In addition, the local Uni SA-Australia squad fields a seven-man team.
Defending 2010 TdU champion Andre Greipel (Omega Pharma-Lotto) wears the number one plate.
Omega Pharma-Lotto
Country: Belgium
Manager: Herman Frison (Belgium)
1. GREIPEL Andre (Germany)
2. VAN DE WALLE Jurgen (Belgium)
3. HANSEN Adam (Australia)
4. KAISEN Olivier (Belgium)
5. REYNES Vicente (Spain)
6. ROELANDTS Jurgen (Belgium)
7. SEIBERG Marcel (Germany)
RadioShack
Country: (USA)
Manager: Jose Azevedo (Portugal)
11. ARMSTRONG Lance (USA)
12. McEWEN Robbie (Australia)
13. CARDOSO Manuel (Portugal)
14. HERMANS Ben (Belgium)
15. IRIZAR Markel (Spain)
16. HUNTER Robbie (South Africa)
17. RAST Gregory (Switzerland)
HTC-Highroad
Country: USA
Manager: Allan Peiper (Australia)
21. CAVENDISH Mark (Great Britain)
22. EISEL Bernhard (Austria)
23. GOSS Matt (Australia)
24. GRABSCH Bert (Germany)
25. PATE Danny (USA)
26. RENSHAW Mark (Australia)
27. ROULSTON Hayden (New Zealand)
Garmin-Cervelo
Country: (USA)
Manager: Matthew White (Australia)
31. FARRAR Tyler (USA)
32. BOBRIDGE Jack (Australia)
33. DEAN Julian (New Zealand)
34. LANCASTER Brett (Australia)
35. MEYER Cameron (Australia)
36. WILSON Matthew (Australia)
37. MEYER Travis (Australia)
Rabobank
Country: Netherlands
Manager: Adri van Houwelingen (Netherlands)
41. BROWN Graeme (Australia)
42. LEEZER Tom (Netherlands)
43. MATTHEWS Michael (Australia)
44. ten DAM Laurens (Netherlands)
45. van EMDEN Jos (Netherlands)
46. VERMELTFOORT Coen (Netherlands)
47. WEENING Pieter (Netherlands)
Team Sky
Country: Great Britain
Manager: Sean Yates (Great Britain)
51. ROGERS Michael (Australia)
52. THOMAS Geraint (Great Britain)
53. GERRANS Simon (Australia)
54. HENDERSON Greg (New Zealand)
55. SUTTON Chris (Australia)
56. SWIFT Ben (Great Britain)
57. HAYMAN Mathew (Australia)
Astana
Country: Kazakhstan
Manager: Guido Bontempi (Italy)
61. DAVIS Allan (Australia)
62. CLARKE Simon (Australia)
63. GOUROV Maxim (Kazakhstan)
64. GRIVKO Andriy (Ukraine)
65. IGLINSKIY Valentin (Kazakhstan)
66. KANGERT Tanel (Estonia)
67. NEPOMNYACHSHIY Yevgeniy (Kazakhstan)
Leopard-Trek
Country: Luxembourg
Manager: Lars Michaelsen (Denmark)
71. O'GRADY Stuart (Australia)
72. PEDERSEN Martin DEN
73. DENIFL Stefan (Austria)
74. VIGANO Davide (Italy)
75. KRISTEN MORTENSEN Martin (Denmark)
76. CLARKE William (Australia)
77. SILVA PIRES Bruno Manuel (Portugal)
Quick Step
Country: Belgium
Manager: Rik van Slycke (Belgium)
81. CHICCHI Francesco (Italy)
82. BANDIERA Marco (Italy)
83. CIOLEK Gerald (Germany)
84. ENGELS Addy (Netherlands)
85. MALACARNE Davide (Italy)
86. REDA Francesco (Italy)
87. VERMOTE Julien (Belgium)
Katusha
Country: Russia
Manager: Dmitriy Konychev (Russia)
91. GALIMZYANOV Denis (Russia)
92. HORRACH Juan (Spain)
93. IVANOV Sergei (Russia)
94. KUCHYNSKI Aliaksandr (Belarus)
95. TRUSOV Nikolay (Russia)
96. VANDENBERGH Stijn (Belgium)
97. VORGANOV Eduard (Russia)
Ag2r La Mondiale
Country: France
Manager: Laurent Biondi (Fra)
101. LOUBET Julien (France)
102. CHAMPION Dimitri (France)
103. PERGET Mathieu (France)
104. GODDAERT Kristof (Belgium)
105. HOUANARD Steve (France)
106. KADRI Blel (France)
107. KRIVTSOV Yuriy (France)
Lampre-ISD
Country: Italy
Manager: Bruno Vicino (Italy)
111. BALLONI Alfredo (Italy)
112. PEREZ ARRIETA Aitor (Spain)
113. BONO Matteo (Italy)
114. BUTS Vitaliy (Ukraine)
115. MORI Manuele (Italy)
116. SPEZIALETTI Alessandro (Italy)
117. RIGHI Daniele (Italy)
Liquigas-Cannondale
Country: Italy
Manager: Dario Mariuzzo (Italy)
121. CIMOLAI Davide (Italy)
122. KOREN Kristijan (Slovenia)
123. MARANGONI Alan (Italy)
124. SABATINI Fabio (Italy)
125. PONZI Simone (Italy)
126. VIVIANI Elia (Italy)
127. WURF Cameron (Australia)
BMC Racing Team
Country: (USA)
Manager: Michael Sayers (USA)
131. BALLAN Alessandro (Italy)
132. KRISTOFF Alexander (Norway)
133. MURPHY John (USA)
134. ZAHNER Simon SUI
135. ROE Timothy (Australia)
136. KOHLER Martin (Switzerland)
137. MOINARD Amael (France)
Saxo Bank-SunGard
Country: Denmark
Manager: Bradley McGee (Aus)
141. PORTE Richie (Australia)
142. HAEDO Juan Jose (Argentina)
143. COOKE Baden (Australia)
144. SORENSEN Nicki (Denmark)
145. TANNER David (Australia)
146. HAEDO Sebastian (Argentina)
147. VANDBORG Brian (Denmark)
Euskaltel-Euskadi
Country: Spain
Manager: Josu Larrazabal (Spain)
151. ISASI Iaki (Spain)
152. IZAGIRRE Gorka (Spain)
153. MINGUEZ Miguel (Spain)
154. IZAGIRRE Ion (Spain)
155. PEREZ Ruben (Spain)
156. SESMA Daniel (Spain)
157. VELASCO Ivan (Spain)
Movistar
Country: Spain
Manager: Jose Luis Arrieta (Spain)
161. ROJAS Jose Joaquin (Spain)
162. GUTIERREZ Jose Ivan (Spain)
163. LOPEZ David (Spain)
164. MADRAZO Angel (Spain)
165. PASAMONTES Luis (Spain)
166. GARCIA Jose Vicente (Spain)
167. VENTOSO Francisco (Spain)
Vacansoleil-DCM
Country: Netherlands
Manager: Michel Cornelisse (Netherlands)
171. FEILLU Romain (France)
172. RUIJGH Rob (Netherlands)
173. DE GENDT Thomas (Belgium)
174. LAGUTIN Sergey (Uzbekistan)
175. ONGARATO Alberto (Italy)
176. SELVAGGI Mirko (Italy)
177. VAN LEIJEN Joost (Netherlands)
Uni SA-Australia
Country: Australia
Manager: Dave Sanders (Australia)
181. ROBERTS Luke (Australia)
182. SULZBERGER Wesley (Australia)
183. CANTWELL Jonathan (Australia)
184. DURBRIDGE Luke (Australia)
185. HEPBURN Michael (Australia)
186. DOCKER Mitchell (Australia)
187. SULZBERGER Bernard (Australia)
Related links
Tour Down Under 2011: Cycling Weekly's coverage index
Thank you for reading 20 articles this month* Join now for unlimited access
Enjoy your first month for just £1 / $1 / €1
*Read 5 free articles per month without a subscription
Join now for unlimited access
Try first month for just £1 / $1 / €1