Tweets of the Week: Patrick Lefevere returns to Twitter, Mark Cavendish drawn badly, and Biniam Girmay has fans
The racing season is here, at last, and it is desperately needed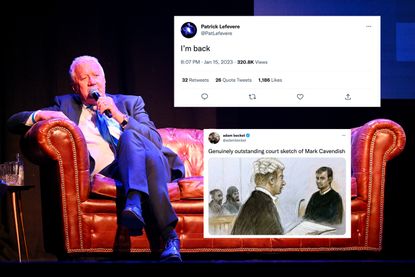 (Image credit: Getty Images)
Between 2003's Reality and 2013's The Next Day, David Bowie stayed out of the limelight, let his past do the talking, and produced no hint that he was going to produce another studio album. Fans didn't know whether there would ever be any new music, let alone whether it would be any good, some of his best work, as was the case with 2016's Blackstar.
Between September 2021 and January 2023, the world of cycling Twitter was similar devoid of its biggest star, and people were left wondering whether it could ever be the same again. That's right, I'm comparing Patrick Lefevere's absence from Twitter to David Bowie's absence from music making.
Comebacks are a risky business, success is not guaranteed, so we will have to wait and see whether the Quick-Step boss will be back to his pugnacious, bewildering self on social media, or whether he has had some media training in the 18 months he was away.
Racing has also made a return for 2023, so there is some actual proper social media content for us all to enjoy, rather than dreaming of things to come. Sure, the Tour Down Under might not be the most exciting thing, and the timings might be weird, but people actually have things to post about.
Alongside Lefevere, we have Biniam Girmay being fanboyed over by a famous man, Mark Cavendish being made to look like not Mark Cavendish, and cyclists playing AFL. It's all happening.
1. Patrick Lefevere is back on Twitter. His last tweet was "this is my last tweet thanks to followers and to the haters", and now he has returned. Already, he is tweeting about Belgian politics, so little has changed. We will see if he returns to his old ways - in 2021 the Belgian faced criticism over his comments during a one-sided war of words with Sam Bennett, and his rejection of investing in a women's team, something which he has now rectified
2. Clara Copponi wants to show off her tats to anyone who is interested
3. Poor Chris Hoy, he should try having a less common name
I thought grief on Twitter had calmed down a bit for me after the football ref Chris Foy had retired a couple of years ago. Turns out there's now a Tory MSP called Craig Hoy.. 🤦🏼‍♂️😂 #HoyNotFoy #ChrisNotCraigJanuary 15, 2023
See more
4. Remco Evenepoel, Vuelta a España winner, world champion, and now Boca Juniors player?
5. Biniam Girmay, loved by fans and fellow pros alike, apparently
6. Including Johan Museeuw, he of Tour of Flanders and Paris-Roubaix fame
Johan Museeuw to Biniam Girmay: "You won Gent-Wevelgem, the only classic I never won. Can I have a selfie?" 😆👍 pic.twitter.com/ZmMoAWniHeJanuary 17, 2023
See more
7. Amanda Spratt has every right to be annoyed at Grace Brown, but it's nice that they can still be friends after a tumultuous Tour Down Under
I should also mention how happy I am about @GLBrown321 hunting me down and taking the overall win @tourdownunder 😂. pic.twitter.com/O4qnQvtV5lJanuary 17, 2023
See more
8. If the Mark Cavendish from this court sketch turns up for Astana, it might be a weird year. He actually looks more like a young Bob Mortimer than the British champion
Genuinely outstanding court sketch of Mark Cavendish pic.twitter.com/kqHCBd33m7January 19, 2023
See more
9. Poor Mathieu van der Poel, he's one of the best cyclists in the world and isn't allowed sugar (but what about energy gels? bakes? come on)
No sugar allowed, except when your birthday is on the last day of the training camp... 🙂 Happy Birthday @mathieuvdpoel! #AlpecinDeceuninck pic.twitter.com/2r6TEBDzM8January 19, 2023
See more
10. Gladys Verhult looking adorable with a koala, that's it. Apparently koalas are riddled with chlamydia, so don't get too close to the marsupial
11. Now he's no longer a cyclist, Alejandro Valverde has diversified big time
12. The scythe is remorseless. I hope the scythe's remorseless swing can bring some comfort to you all
January 2019 v January 2023…..when i continue to age like this then January 2030 will be most interesting! #NewProfilePic pic.twitter.com/LRnNpyQtmgJanuary 14, 2023
See more
13. And finally, while Jai Hindley isn't too bad at what Australians insist on calling football, Luke Plapp should stick to cycling. Imagine either of these people on an AFL field, they'd snap
SPOTTED: pro cyclists trying to play football 🏈 @JaiHindley of @BORAhansgrohe and @LucasPlapp of @INEOSGrenadiers have some AFL skills 👌🏼 #TourDownUnder #TDU @tourdownunder pic.twitter.com/1SNXo44CP6January 13, 2023
See more
Thank you for reading 20 articles this month* Join now for unlimited access
Enjoy your first month for just £1 / $1 / €1
*Read 5 free articles per month without a subscription
Join now for unlimited access
Try first month for just £1 / $1 / €1