Tweets of the week: Peter Sagan topless on the slopes and Zoe Bäckstedt's adorable cousin
It's a new year but the social media pipeline keeps churning out content, here's some of the best for your enjoyment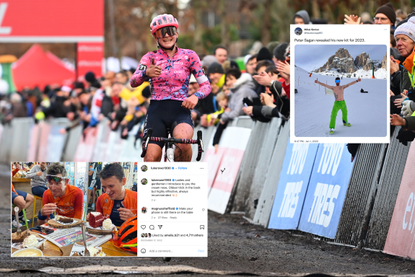 (Image credit: Getty Images)
Happy New Year from all of us at Cycling Weekly's Tweets of the Week department. We've had a busy time of it over the Christmas and New Year period, sorting out the good takes from the bad takes, and generally sifting through the mountains of content that have been produced by bored professional cyclists as they sit around at home during the festive season.
It might be 2023, but Twitter and Instagram are still the places to go if you want to see behind the scenes of cycling, from how Zoe Bäckstedt's cousin reacts when she sees her on television, to how 32-year-old treats 23-year-old Tom Pidcock at Ineos training camps (the answer is immaturely).
With the WorldTour season approaching with pace thanks to the return of the Tour Down Under, there is still time to take a step back and appreciate some of the best posters in the cycling business. Oh, and there's Peter Sagan topless. What more could you want?
1. For some, the off season means relaxing. For Mauri Vansevenant, it means looking after calves, obviously. And by calves, I don't mean his skinny climbing legs, but young cows. Why he is feeding her from a Coke bottle, I don't know, but this is adorable
2. If you've ever been stuck somewhere without a bottle opener, as I frequently am, it turns out you can use SPD-SL cleats to open beer with. What a useful little life hack. I'm sure Look Keo cleats would work too, but it's unlikely you'll get anything out of Speedplays
3. I am not, and never will be, a professional athlete. However, is this really how juvenile team training camps are? Poor Tom Pidcock for falling for 32-year-old Luke Rowe's nasty trick
4. Speaking of youth vs experience, Geraint Thomas still thinks he has the beating of riders 15 years his junior. If he catches them by surprise, obviously. Unlucky, Magnus Sheffield
5. Team photoshoots are a bit of a mystery to me: are they always as fun as the riders make them look, or are they a bit of a chore? Here, Lotto-Dstny allow us behind the scenes to see Arnaud De Lie and Caleb Ewan work hard off the bike as well as on it
6. Peter Sagan is only 32, soon to be 33, but he gives big mid-life crisis energy. I guess this is what happens when your best years happened in your mid-to-late 20s. Cold.
7. Speaking of Sagan, it looks like he's got his next career sorted - as some kind of Father Christmas for hire
8. Father Christmas actually had quite a rough ride to get to everyone's houses this year; who knew he went over the pavé on his sleigh?
9. It seems like Chris Boardman does not love Zwift
10. Tom Southam is ready for next summer's Ashes, as is his daughter. Are you?
11. Skiing with Alison Jackson looks like it would be fun. To be fair, doing anything with Alison Jackson would probably be fun, such is her vivacious personality
12. Shout out to Zoe Bäckstedt's biggest fan, her little cousin. I love the enthusiasm
13. The British track women's squad went diving; if that doesn't motivate you to try something new in 2023 I don't know what will
14. Here's Ella Harris with an inspirational story
15. Frankie, the late Michele Scarponi's parrot, looks like he's still attracted to the aqua Astana kit
16. Congrats to Jade Wiel and all involved at FDJ-Suez-Futuroscope for the coolest photo of all time
17. Finally, apparently Fabio Jakobsen and Michael Mørkøv are the sultans of swing. Who knew?
Thank you for reading 20 articles this month* Join now for unlimited access
Enjoy your first month for just £1 / $1 / €1
*Read 5 free articles per month without a subscription
Join now for unlimited access
Try first month for just £1 / $1 / €1